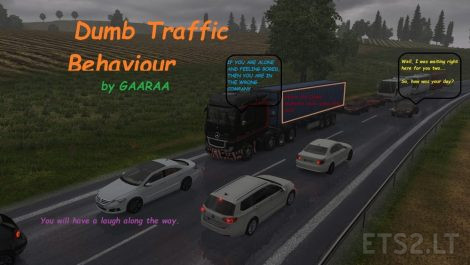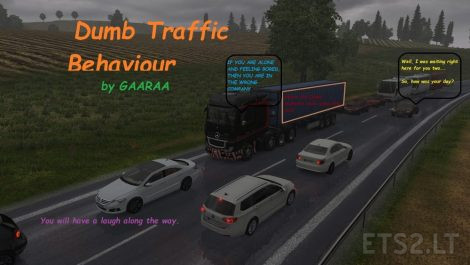 Dumb Traffic Behaviour by GAARAA, shows the dumb behaviour of drivers.
Please maintain good space between vehicles ahead of you and try to drive carefully, as the dumb ones might bump into you on small roads and also on highways.
Might have to wait for the traffic to clear up if there's an accident otherwise reload to earlier saves.
This mod provides the traffic with its dumb behaviour and its no more a smarter traffic pattern.
This is a completely different mod from the earlier ones.
Some of the major differences are, traffic is now featured country-wise, spawn rules are toatally restructured, small tweaks for FPS and so on….
This one also has a normal Traffic_Behaviour_by_GAARAA mod within the zip-file, choose any 1 of the 2 mods.
Recommended to use along with Bus Traffic Pack by Jazzycat v 3.2, But Traffic Behaviour mod(any 1 of the 2) should be on higher priority.
This is the last one in this series, I had a blast creating and testing this mod, hope you will too have a laugh along the way.
Hope the realistic fans and challenging fans both maybe satisfied.
Finally guys, share the dumb moments you experience using this mod and …surely………. Look Out for that Crazy Driver.
IF YOU ARE ALONE AND FEELING BORED, THEN YOU ARE IN THE WRONG COMPANY!!
Enjoy and DRIVE SAFELY… HAPPY NEW YEAR!!!
Credits:
GAARAA
DOWNLOAD 256 KB