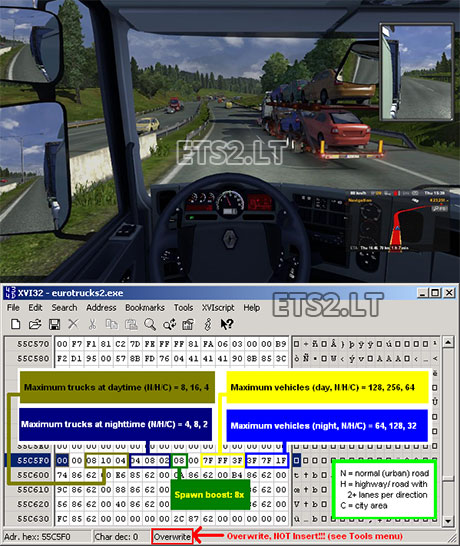 for European Truck Simulator 2, v1.3.1 only!!!
This is a patched ETS2 executable. It's a drop-in eurotrucks2.exe replacement.
It can generate considerably more traffic than the stock version. The reason
why this is a modified .exe, instead of a "usual" .scs mod, is simple:
Most of the traffic stuff is hard-coded in the executable and can't be configured. The
file must be reverse-engineered, analyzed, and then modified at the machine language level. But don't worry, I already did all that work 🙂
A few of the "settings" are parameterizable. Namely, it is possible to
indi-vidually tweak the (maximum) number of vehicles spawned in cities, on "normal" roads, and on roads with more than one lane per direction (e.g., highways).
And these settings are available for day and night, so you can control whether you want less traffic at night (or not). (The unpatched ETS2 uses 63 during the day, and 21 at night).
Plus, you can control how many trucks you want to see (at most), again for those 6 cases individually. The unpatched ETS2 limits this to 4, unconditionally.
Finally, there's what I call the "spawn boost", which allows to control how often spawn attempts occur. The default seems to be once per second. Setting the boost to 8 will produce 8 attempts per second, etc.
Author: John Doe
DOWNLOAD 3.18 MB