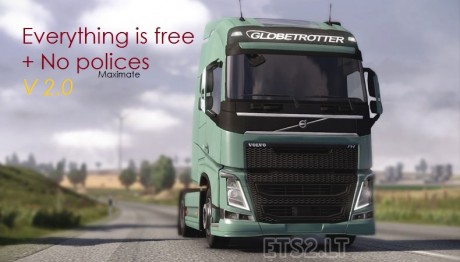 New in version 1.0:
– Every jobs are open
– Cancelling a job is free
– No penalties if cargo is damaged.
– Every garage (and upgrade) is free
– No productivity plans
– Hired drivers don't cause any costs
– No delivery overtimes
– Longer time to complete jobs
– Selling a truck gives 100% price back
– Every loans are interest free and payback time is 500-10000 months (so it´s "free")
– Your money can be in negative almost endless
– You doesn't get any fines (NO POLICES)
New in version 1.1:
– Ferries and trains are now free
New in version 2.0 (this version):
– The whole mod is recreated to game version 1.14
– You can now drive without sleeping over 110 game hours
– Sleeping time is now 1 minute (before it was over 7 hours)
– Now you get 99% more experience points if you take long, fragile, adr, important, urgent or heavy job.
– Now you get 5000 xp if you park you trailer properly (before 45 xp).
– Max level is now 10000 (before 150)
– You will receive a new level much more easily
– Hired drivers brings you an average of 500 000 euros every time.
Author: Maximate
DOWNLOAD 8 KB