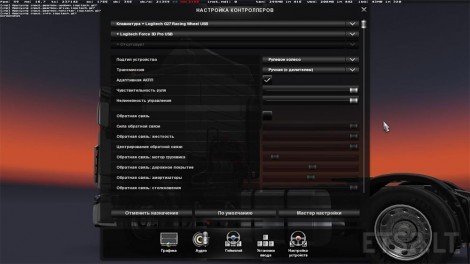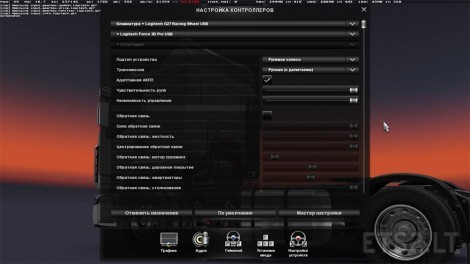 Euro Truck Simulator 2 + American Truck Simulator: force feedback plugin (version 2.4) for Logitech steering wheel controllers with 900 degrees rotation range (G27, G25, Driving Force GT).
Description
Completely replaces the feedback in the game:
1) Developed simulation of friction in the steering (since the steering wheel is rotated without resistance, and the standard damper force is too poorly simulates the force). Simulation of friction allows to resolve a wide "empty" Central zone in the feedback on the twin engine FFB controllers (G25/G27).
2) Due to the detection of "hidden" telemetry parameter (that returns the force on the suspension for each wheel – dev.truck.wheel.suspension.force), for calculation of stabilizing efforts used formulas from the theory of stabilization of the steered wheels of the vehicle. This required parameters of the suspension (caster, camber, inclination of the axis of rotation – can be found in the specifications of the trucks in this Assembly used the corners of the MB Actros MP3). About steering running shoulder – I can't find this info in the specifications, i determined it by the method of looking at photos of the front hubs).
3) Self-stabilization if deformable rolling wheels is still approximately (from experimental data), will be further modified, if possible, the real physical model.
Read more in readme files inside the archive
Credits:
Supric
DOWNLOAD 1 MB