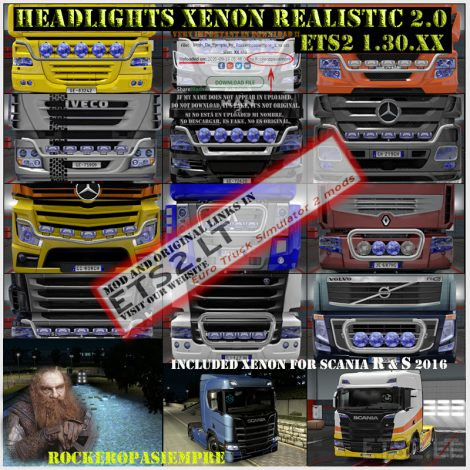 Headlights Xenon Realistic by Rockeropasiempre 2.0
PROHIBITED TO RESUB THE MOD TO ANY SERVER WITHOUT PERMISSIONS.
For ETS2 version 1.30.XX
This mod replaces the headlights of all the original trucks of the game, by blue xenon headlights. The beam of light falls directly on the color projected by the lighthouse on the road. With this mod, both the color of the truck's headlight and the xenon beam are blue.
Changes in the Xenon Realistic Headlights version by Rockeropasiempre 2.0:
– Added the New Scania R and S 2016.
Lights and lights valid for all the original trucks of the game in 1.30.XX:
– Daf XF
– Daf XF Euro6
– Iveco Hiway
– Iveco Stralis
– Man TGX
– Mercedes Actros
– Mercedes New Actros
– Renault Magnum
– Renault Premium
– Scania R
– Scania Streamline
– Scania R 2016 (NEW)
– Scania S 2016 (NEW)
– Volvo FH16
– Volvo FH16 2012
Author: Rockeropasiempre
Weight of the file: 47.8 Mb
regards
Credits:
Rockeropasiempre
DOWNLOAD 48 MB
https://youtu.be/wScIrirmo6M