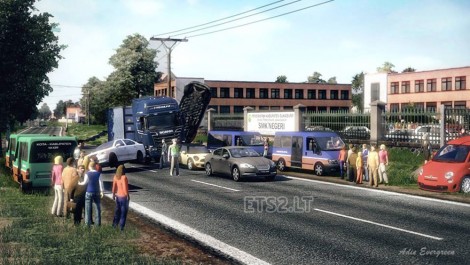 This map is unlocked, similar to scs that share the file open to let
anyone modified, i too hope this can help others mapper.
The Graphics load this map mods similar to Hungary map by frank007
There are lots and lots of 2D trees which you wont like, i feel sorry
for this because in the past i've used 3D trees near roads, however
the lags is too much and unplayable. Tried to decreasing it but it wasn't
the area i know (not enough real life like). And so 2D Trees are massively
used in the forest area, stay safe when entering kiara dua till bagbagan
regency, your pc fan should be screaming by the area.
Oh y i forgot, the most lags is in pelabuhan ratu regency. be safe…
== How To Use ==
1. Copy ICRF Sukabumi By Evergreen1976 V.1.21 File from
folder " ICRF Map and Traffic Only for 1.21 "
" For start, please dont use the given traffic mod"
" It is purposed to check ICRF Sukabumi map stability and how big is the lag"
2. Paste it in " DocumentsEuro Truck Simulator 2mod… "
3. Start ETS2 > New Profile > Mod manager (on the left screen)
5. Activate ICRF Sukabumi Map > Confirm changes > Module change to indonesia.mbd
6. Start from Pelabuhan ratu or Sukajaya.
7. Please do a quick job 3 times. then u can use given traffic.
Dealer List :
Volvo & Mercedes are in Pelabuhan Ratu Area
Daf, Scania dan Man are in Sukajaya Area
Iveco & Renault are in Surade Area
for support
twitter @adie808
Facebook Adie Evergreen
Authors: Adievergreen1976, other in the Readme
DOWNLOAD 114 MB