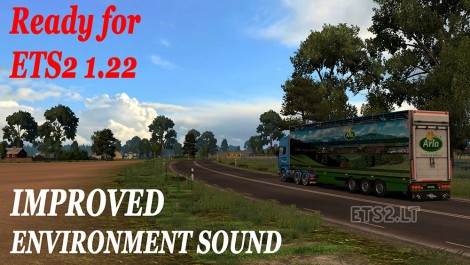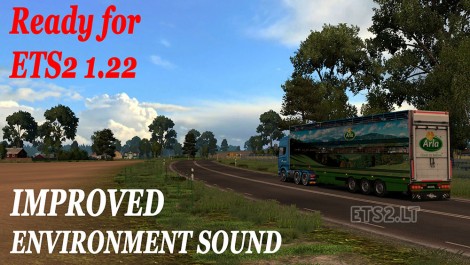 Complete list of features:
– Mod adds more than 230 high quality sounds and music for ETS2;
– New realistic sounds for ai cars and new ai car horn sounds, taken from real cars;
– Every truck now have its own new windshield wipers sound;
– More realistic and more detailed refueling and trailer coupling sounds;
– New HQ rain, interior rain and thunder sounds;
– New HQ rain blobs textures and general look of rain on windshield;
– Realistic train sounds including sound of railroad crossing sound;
– New yawn sounds for men/women driver;
– New garage interior and garage gates sound;
– New environment sounds for forest and city. Now its total 20 new sounds;
– Reworked ambience sounds for companies. Added many missing sounds for different companies (for default, Pro Mods, RusMap, ROS, TSM and MHA map companies). Added more than 40 sounds overall;
– Added many new and changed old sounds for different game objects (movers) from default map and various mod maps: sounds of animals, people, machines etc;
– New ferry and train (Eurotunnel) sounds;
– New photo mode camera sound;
– New menu music;
– Mod is fully compatible with Sound Fixes Pack mod by Drive Safely, but must be installed with higher priority!
Attention!!! Mod is tested with ETS2 ver. 1.22. Should work on previous version too! Mod is compatible with all map mods, but must have higher priority! Mod was adapted for Pro Mods map, Russian Open Spaces map, TSM map, MHA map and Rus Map. Also, mod is compatible with Sound Fixes Pack mod by Drive Safely.
Changelog:
– Decreased sound level for cows, horses, bird flocks, ambient sounds of forest and companies;
– Added more sounds for companies, city and forest environment;
– Added more detailed coupling sound;
– Added more detailed refueling sound;
– Changed outside sound of rain;
– Added new sounds for trains. Also, added railroad crossing warning sound;
– Increased interior sound, as a result traffic more audible now;
– Added HQ texture for rain blobs, as well as new rain effect on windshield;
– Sounds of traffic and traffic horns changed on better ones;
– Other minor bugs was fixed.
Author: AlexeyP
DOWNLOAD 532 MB