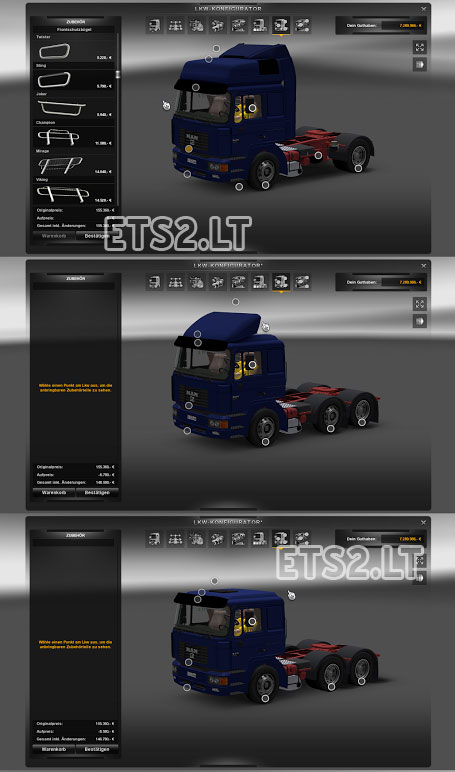 Please read this otherwhise it won´t work !!!!!!!!!!!!
what i have done:
– overhauled the fps problem
– deleted fix parts on cabin and chassi
– now it is standalone
– added tuningpoints for individual tuning
– added tuningparts ( more work is planed )
– added template for vimles and "schmutzlappen" so you can make
skin by your own ( dds for the jacket of the truckdriver can be found
in vehicle/truck/m_f2000/1.dds )
– changed last 2 motors, now there is an original R6 and V10
motor
what i will do:
– add more tuningparts (wishes with link in the comments below)
– add badges for doors
– add template for cabin and chassi(sideskirt)
– add 6×2 and 6×4 sidekirts
– adjustments of some tuning parts
– add a xlx and xl interior view
– shadow improvments (oder wie das heißt)
what u have to whatch at :
– tuning mods are optional, but
zzzzzzzzAddon_hookups, front mudflap pack,
zzzTC_Mega_Mod_V7.5.1_modifié_by_StAfFordShIrE, 50k_addons and
zLightsByDallybor&50k are highly recommended,
– otherwhise the game show no light tuning or the game
crashes at all MAN truckdealers
– if you still have megamod by tasos978, you don´t have to
extract it. think higher versions of his mod are also compatible
– don´t wright this truck in the truck_traffic_storage.sii,
this will drop fps rapidly
– don´t activate physics.scs if you are playing the game on
version 1.8.2.5 or below otherwise the game crashes
– there is a tuningpoint called rear_parts behind the truck, it
was a test for next update
– original backlights must buyed over sideskirts, because they
are in conflict with V10 sideskirt, so i have must remove it from
truck base
– the sound mod is in conflict with all scania 143 sounds, you
have to deactivate it before starting game
– if you find some bugs, please describe the problem, I dont
know what you want from me if you are wrighting "there are a lot of
bugs".
Extract recommended/optional scs files from megamod.rar and all scs
files into ETS2 mod folder and don't forget to activate
At last respect to all modders that have made this awesome stuff.
If you like, subscribe
Credits: Chech, Indomable (truck)
Dallybor and 50keda (tuning)
StAfFordShIrE (tuning)
tasos978 (megamod)
Volidas (sound)
Kriechbaum (sound)
Mrtheflashback (sound)
SCS (sound,tuning)
DOWNLOAD 264 MB