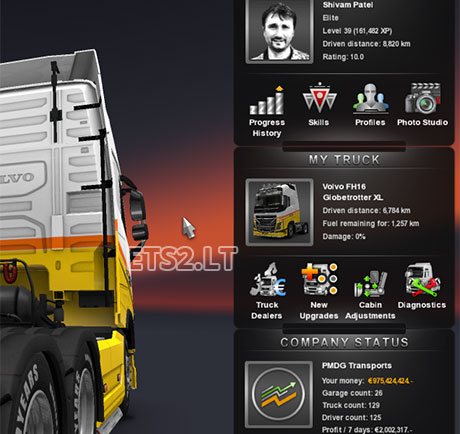 Hi everyone, this is my first upload. Hope you like it.
——————————-
Instructions on how to install:
——————————-
1. Extract folder "Save game 1.7.0" to your wished destination.
2. Extract the profile folder to "Documents\Euro Truck Simulator
2\profiles" folder.
3. Extract and place every mod in to "Documents\Euro Truck Simulator
2\mod" folder.
4. Open Euro Truck Simulator 2 and have fun!
NOTE: Mods are REQUIRED in order for this profile to work correctly.
———————-
Statistics:
———————-
Name: Shivam Patel
Elite
Level 39 (161,482 XP)
Driven Distance: 8820 km
Rating 10.0
———————-
Truck Information:
———————-
Truck: Volvo FH16 Globetrotter XL 999 HP engine
Truck distance: 6,784 km
Fuel remaining for: 1,257 km
Damage: 0%
———————-
Company Status:
———————-
Name: PMDG Transports
Money: €975,424,424
Garage count: 126
Truck count: 129
Profit (last 7 days): €2,002,317
Thank you for downloading! Please rate or send any question in the
comments!
Credits:
Shivs2262000
DOWNLOAD 145 MB