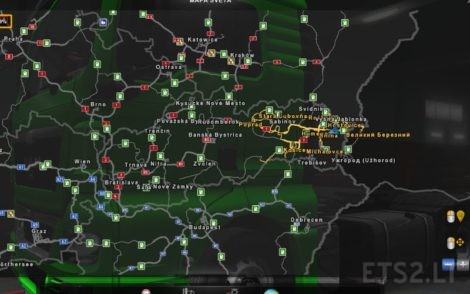 Actualization V.10!!!!
What is New?
+ Added 2 New Cities
+ New loading photos
+ Truck Dealer/Service FIXED
+ In Europe.rar is Europe.scs
It's New Slovakia Map with all of Europe countries. You will need expansion – ETS 2 Going East.
INCLUDED:
– 16 New Slovakian Cities (Humenné, Snina, Vyšná Jablonka, Roškovce, Hostovice, Michalovce, Trebišov, Poprad, Nitra, Trenčín, Kysucké Nové Mesto, Považská Bystrica, Šaľa, Nové Zámky, Stará Ľubovňa, Sabinov)
– 2 New Ukraine Cities (Ужгород, Великий Березний)
– 5 New Slovakian MiniCities (Svidník, Ružomberok, Zvolen, Trnava, Senica)
– Real Slovakian Roads and Signs (with some road changes)
– For version 1.32.3.7!!!!
– Thanks For Downloading!!!!
HOW TO DOWNLOAD:
1. Download from this website
2. Open europe.rar
3. Copy europe.scs to folder: mod
4. Enjoy and Play!
(The map is called europe, because it's maked to europe.mbd)
FACEBOOK for NEW INFORMATIONS!!!!
https://www.facebook.com/SlovakiaMapByKimiSlimi/
QUESTIONS:
[email protected]
Credits:
KimiSlimi
DOWNLOAD 271 MB