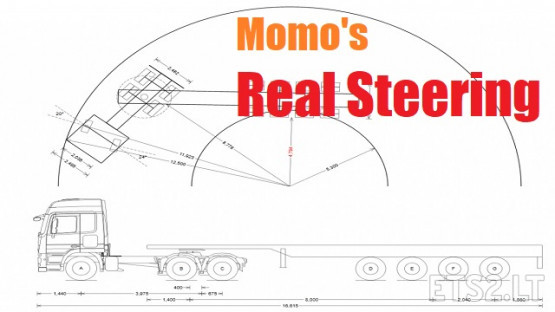 This is a very simple mod but makes a big difference.
This mod is not really a physics mod. Because it only changes the steering.
But it uses the physics file, so it falls to the physics category.
This mod makes the steering slower for more realism, calculated from the turning angle or turning radius of real life trucks. You will feel that the steering is closer to driving a real life truck or at least a car. It is taken from the steering in my legendary mod "Physics 6.0 Geometry". If you are a big fan of "Physics 6.0 Geometry" you know what I am talking about. However this mod only touches the steering, it does NOT touch anything else.
—————————————————
RECOMMENDED SETTING (For 900 degree wheels)
For the best result, it is strongly recommend that you follow the setting below:
1. Steering Sensitivity = 50% (the middle spot)
2. Steering Non-Linearity = 100% (all the way to the right)
For Keyboards and Joypads?
I have not tested with a keyboard or joypad. It should work but I don't know the right setting. So you have to test it yourself.
——————————————————
COMPATIBILITY
1. Compatible with 1.35
2. Compatible with all trucks both SCS and modded.
3. Must be placed higher than any truck mods and any mods that use the physics file.
4. NOT compatible with any other physics mods.
5. Compatible with my Air Ride mods.
—————————————————–
WARNING
It will take a little while for you to get used to the new feeling of the steering especially if you have not driven a car in real life before. But if you drive a car in real life regularly, you should be familiar with it immediately because it's very close to a real life car. Your truck will need a little wider space to make a circle/U-Turn. But you will love the realism of it after you have got used to it.
HOW TO THANK ME LOUDER THAN WORDS ?
1. Send me your Steam Trading Cards or any Steam tradable item.
1.1 Add me to your friend list. (My profile name is "Momo & Yuna" make sure you add the right person)
1.2 Go to my profile page.
1.3 Click the button "More" next to "Send a Message".
1.4 Choose "Offer a Trade" from the drop down menu.
1.5 Move your Trading Cards to my inventory.
2. Paypal
https://www.paypal.me/aaticha
CAN YOU STEAL MY MODS ?
Be my guest, but please give me some credits. You could either learn from my mods to produce your own, or just post them as they are. Either way, please give me some credits for my hard work. That way you will look good like a gentleman.
MY STEAM MOD
https://steamcommunity.com/sharedfiles/filedetails/?id=1847679288
HOW TO CONTACT MOMO ? :
1. The comment section below.
2. Facebook fanpage: https://www.facebook.com/Momos-mods-365686307191461/
3. My Youtube Chanel: https://www.youtube.com/channel/UCEAtYWr0IodkLyO9W4tMbpg/videos?view_as=subscriber
4. My email: [email protected]
Credits:
Momo
DOWNLOAD 20 KB