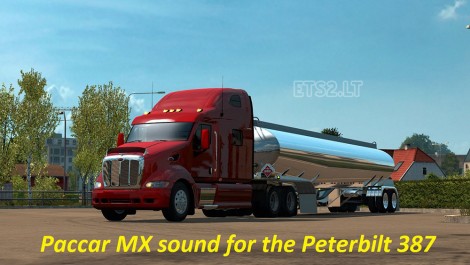 Hi all,
American truck is coming soon. So it's time to prepare the game with alternative sounds…
Today i share with you a Paccar sound mod for the new Peterbilt 387.
This mod adds two Paccar engines in the shop, and of course, you need one of them to have the sound.
There's a second mod if you liked it in the video : a wind sound, this sound file comes from my friend odd_fellow, i just edited it a little bit to my toast.
Respect the priority list for the mods :
– Wind sound (if you use it).
– My sound mod.
– Then after the truck, in third position.
Sounds must always be ABOVE the truck in the list.
There's also a wind sound mod in the video's description if you liked it in the video.
Video : https://www.youtube.com/watch?v=k0n6ohMuZ0Q
Happy new year !!!
Author: Kriechbaum
DOWNLOAD 4 MB