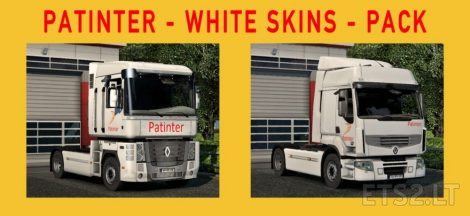 This Patinter white skins pack includes: Two white skins for ingame trucks, one for the Renault Magnum and another for the Premium. The skins work on any cabin.
___
This mod uses high quality textures (4096×4096).
___
If you want to check my other mods and my projects:
Here's my website:
http://silvaets2mods.blogspot.pt/
And here's my facebook page:
https://www.facebook.com/SilvaTrucker/
___
DON'T UPLOAD THIS MOD TO ANOTHER DOWNLOAD WEBSITES, AND DON'T CHANGE THE AUTHOR!
___
I hope you enjoy! If there's any bug, please say on the comments, for further fix.
Credits:
SilvaTrucker
DOWNLOAD 0.3 MB