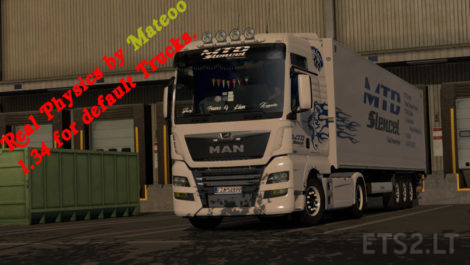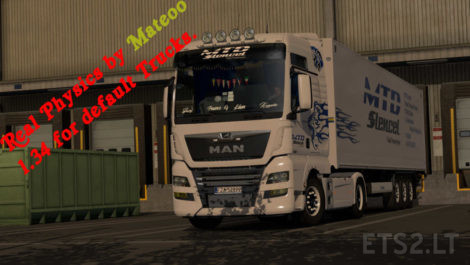 PL:
Realna fizyka jazdy autorstwa Mateoo, działa na standardowych ciągnikach z gry. Do poprawnego działania modyfikacji należy zmienić wartości w profilu na którym gramy za pomocą notatnika według podanego poniżej wzoru.
Moje dokumenty > Euro Truck Simulator 2 > profiles > [twój profil] > config > prawy przycisk myszki oraz edytuj za pomocą notatnika
Szukamy następujących linijek i zmieniamy wartości, domyślna wartość = 1
uset g_suspension_stiffness "0.55"
uset g_trailer_stability "0.45"
uset g_truck_stability "0.35"
Zapisujemy i wychodzimy. Od teraz możemy cieszyć się fizyką. Miłej gry!
EN:
Real Physics by Mateoo, works with default trucks. You need to change values in your profile with notepad.
My documents > Euro Truck Simulator 2 > profiles > [Your Profile] > config > right mouse button and edit by notepad
We looking for those values and we change it, default values = 1
uset g_suspension_stiffness "0.55"
uset g_trailer_stability "0.45"
uset g_truck_stability "0.35"
Save and exit. Now just run your game and enjoy phisics.
Credits:
Mateoo
DOWNLOAD 722 KB