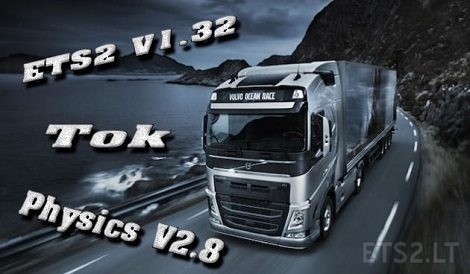 – Improved physics of suspension, cab, engine, transmission, brakes, pneumatic seat, cameras in the cabin.
– The angle of rotation of the wheels has been increased.
– Cruising speed with a load of 20 tons, 500 – 520 l / s, 100 – 115 km / h (depends on the manner of driving).
– Supports all default trailers, as well: Scania R & S from RJL, Galvatron TF4 (Freightliner Argosy).
– For those who are not fond of changes in management, in the archive there is a second file with a standard management registration:
(Physics_of_the_truck_V 2.8_standard_control_from_ ~ Tok ~).
– P.S. The files are locked, except for the chassis, when adding and editing the chassis, when saving, it will ask for the password, just click "ok".
– Installation:
– Put in the Mod folder, connect it to the mod manager.
– Test on version 1.32.x
– Author: ~ Tok ~
Credits:
~Tok~
DOWNLOAD 228 KB [Sharemods]
DOWNLOAD 228 KB [Modsbase]