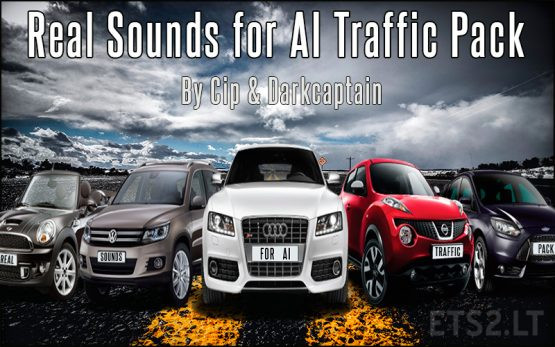 Personalized sounds for Ai Traffic Pack v12.4 by Jazzycat.
-You must place my mod above (priority) the Main pack 12.4
-Don't use this mod for older versions of the main pack.
Main mod can be found here: https://ets2.lt/en/ai-traffic-pack-by-jazzycat-v-12-4/
This mod "Sounds for Ai Traffic Pack" contains more than 200 sound files, most of Cip sounds! a few others captured by me from different sources (Youtube ..) with some improvements by Cip.
NOTE Some sounds may not coincide with the reality at 100%. Sounds for some vehicles are not always available.
This Mod works with "Ai Traffic Pack v12.4 by Jazzycat" version, it will ONLY work in 1.36 version
Support, questions & feedback here: https://forum.scssoft.com/viewtopic.php?f=211&t=283882
Credits:
Cip, Darkcaptain, Jazzycat
DOWNLOAD 90 MB