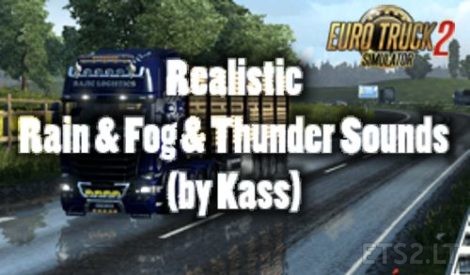 Realistic Rain & Fog & Thunder Sounds V3.7.1 For ETS 1.31.x & 1.32.x
Features & News In Rain & Fog & Thunder Sounds V3.7.1 Version:
Notes: Fixed the Promods (2.30) Map users Crash.
* Compatible To Work With ETS Game Versions 1.31.x & 1.32.x
* 4 Realistic Thunder Sounds.
* Realistic Thunder Sounds Inside Cabin & Outside Cabin Of The Truck.
* Realistic Rain Drops/Windshield Effects.
* Improved Rain
* Imrpoved Rain Effects
* Improved Quality Of the Water (E.g: Sea & Rivers & Rain etc)
* Improved Rain Particles/Spray
* Different Types Of Weather
* Different Rain & Fog Intensity
Please Do not Re-upload in any other hosting site/s keep the original download links.
SCS Forum: https://forum.scssoft.com/viewtopic.php?f=34&t=166418
Important: Do not use with any other Weather mods. Example: Winter Mods, Realistic Lighting Mod, Improved Weather Mod etc.
Credits:
Kass
DOWNLOAD 272 MB [Sharemods]
DOWNLOAD 272 MB [Modsbase]