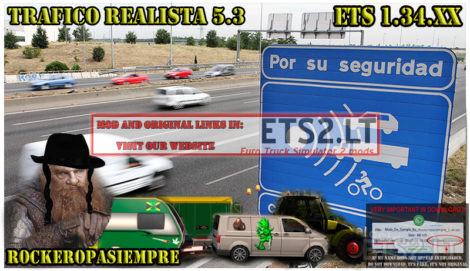 Realistic traffic 5.3 by Rockeropasiempre for V.1.34.XX
Update of mod.
PROHIBITED UPLOAD THE MOD TO ANY SERVER WITHOUT PERMISSIONS.
It has been almost 3 months of work. The mod has been completely redesigned (Visionad the video and read the changes in this version), so have some patience, and if you report something strange, work will continue to improve.
General Specifications of the mod:
– 2 Versions inside the file rar. One (WITH EXTRAS), and another that does not include sounds, nor colors for vehicles AI (NO EXTRAS). Choose one of the 2.
– Mods manager: Always place on top of any AI traffic mod you have.
– Traffic behavior of the AI ​​totally different from that of the original game.
– Multitude of different colors for AI cars. Version (WITH EXTRAS).
– Increase overall volume of traffic on all roads.
– Less patience in the behavior of the AI ​​drivers.
– Descent of police cars.
– Compatible with all maps and Dlc's of the game. (Going East, Viva la France, Italy, Heavy Cargo, Special Transport and Beyond the Baltic Sea).
– Compatible with all AI traffic mods-packs. (Place the mod on top of the IA packs you have).
– Complete information inside the downloaded rar. File READ ME 2 VERSIONS.txt.
Changes in version 5.3:
– Removed obsolete files from the previous version.
– The mod has been totally remodeled.
– Added 28 new traffic parameters, which make traffic more comfortable, and with less traffic jam.
– Slight decrease in general traffic.
– Removed some blue and yellow colors from IA traffic. (Version WITH EXTRAS).
– Reactions and incorporations of the AI ​​vehicles much smoother.
– Mowers are removed from agricultural areas, as their size does not allow a two-way traffic and stop.
– Added Wolwasgen Transporter van and green caravan with marijuana logos to IA traffic.
– Slight decrease in tractors in traffic.
– Added trailers for 1 and 2 axle tractors.
– The trailers for tractor, can appear with, or without canvas.
– Different loads for new tractor trailers. Wheat, oats, sand, or potatoes.
– Disabled the option of parked tractors.
– Fully compatible with the new DLC "Beyond the Baltic Sea"
– Reduced customs time "Beyond the Baltic Sea" for paper review. Only 4.5 seconds.
– The waiting times at intersections have been reduced, and adapted in such a way that vehicles always circulate.
– Defined the option "Give way" to all IA vehicles.
– Traffic lights of cities stop working at 22:45 and start at 5:00 in the morning.
– The semaphores are the same time in green as in red, in this way no bottling is caused.
Author: Rockeropasiempre
Weight of the winrar file: 189.6 Mb
A greeting.
Credits:
Rockeropasiempre
DOWNLOAD 190 MB