Realistic Weather Sound v1.6.1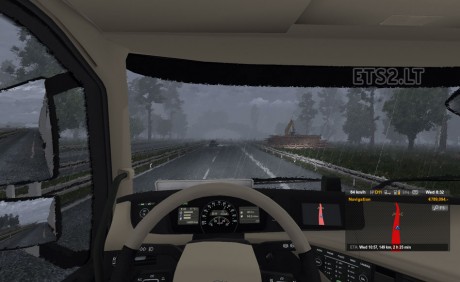 This mod adds better rain sound effects at exterior and interior of the truck and also better visual effect of the rain. With this mod for sure you will use the Rain Probability at maximum. You feel like you're in a truck and outside it's raining. Also if you use the exterior camera you won't believe you're playing a game. The immersion is superb and I don't say this because I'm the creator of it.
Changelog v1.6.1:
-No big changes only the game_data.sii was updated since in latest version, 1.12, some new lines were added and I wanted to make sure everything it's up to date. Also updated the fix for ProMods v1.70.
Credits:
nIGhT-SoN
DOWNLOAD 2.2 MB Main mod
DOWNLOAD 2.2 MB Mirror Main mod
DOWNLOAD 2.2 MB Fix for ProMods
DOWNLOAD 2.2 MB Mirror Fix for ProMods
Popular mods