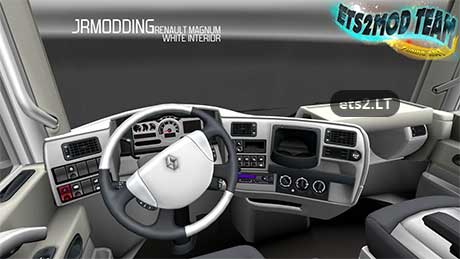 This mod replaces de Renault Magnum default interior with an elegant
white interior.
NEW FEATURES:
– Elegant white interior.
– Dashboard lights are purple (including indicators)
– Dashboard screen is purple.
NOTE:
This mod also affects a part of the Renault Premium.
HOW TO INSTALL:
Simply extract the .scs file and place it into the following
directory:
C:/username/documents/Euro Truck Simulator 2/mod
NOTE: If the mod is not working, try the following:
– Make sure that you haven't got another interior mod enabled for the
Renault Magnum (and possibly the Renault Premium), if so, disable it.
ENJOY!
Author: JRModding
DOWNLOAD 5.78 MB