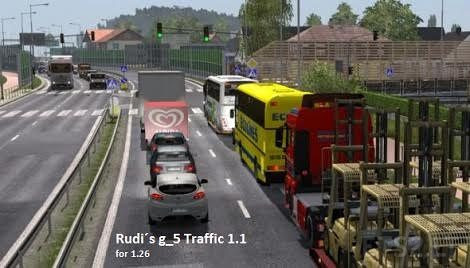 This is my first mod ever.
much more traffic, but with smooth behavior. not much accidents, traffic jams or stupid AI moves.
it can be happens that you will stuck. then save the game and reload.
– support for Drive Safely´s Sound Fixes Pack.
recommendable mod: Better traffic flow from Brainiac
mod is tested with ETS2 1.26 + ProMod 2.15 + RUS Map + Balkan. but must work with any map.
importend!!
i mixed this mod up with g_traffic level 5!!
you find it here at your PC: A/B/C?:UsersnameDocumentsEuro Truck Simulator 2config.cfg
open the config.cfg with the editor or notepad, and set uset g_traffic to 5, or what ever you prefere, and save it! the scale is from 1 till 10.
restart the game! in the mod manager it must have a higher position then maps and traffic packs like from Jazzycat. but not above sound mods.
for questions, whishes or problems, please visit the SCS forum:
http://forum.scssoft.com/viewtopic.php?f=177&p=691286#p691286
have fun. 🙂
Credits:
for inspirations: D.B Creation, piva, karpiu. special credits to Fr8i, aka Frachti. my traffic basis behavior is bulit up from his mod.
DOWNLOAD 18 KB