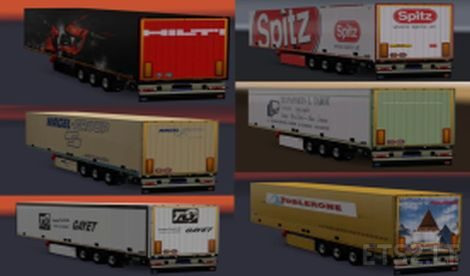 Autor of the Trailer: Rommi TZ
Skins: Rudi
– AI traffic
– 2 Cargos each Trailer
– Did not replace any other trailer.
– Game Version: 1.27
– Mod Version: 1.0
6 Skins for the Schmitz S.KO Trailer.
In order:
2x France: Gayet, Tarot
2x International: Toblerone, Hilti
1x Germany: Nagel
1x Austria: Spitz
There is one warning in the game log, about a front wheel. I don´t know how to fix this one, but it will show up only once,
and it only a minor bug.
Credits: Rommi TZ, Rudi
Credits:
Rommi TZ, Rudi
DOWNLOAD 43 MB