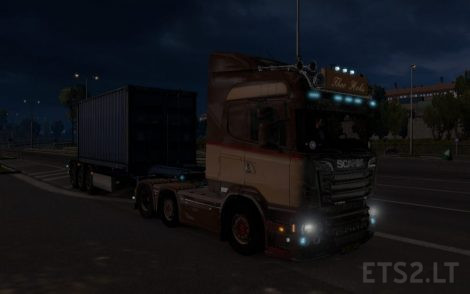 Scania R620 Theo Hoks v4.0 Mod based on high quality Caspian Custom Team 3D model. Special great thank's CCT! Nice work!
– Standalone Truck find in Scania dealer
– Original V8 Open Pipe Sound
– Cabin DLC partially ready
– Own Wheels
– Liftable Axle
– AO texture
– Work only 1.27 game version
v4.0 Changelog:
– Removed mat obselete attributes
– Adapted and fixed original V8 Open Pipe Sound
– Fixed animation
– Added real physics for truck and interior camera
– Changed Truck Dealer preset
– All 3D models converted in new format
– Completely redesigned to the Scania factory settings engine
and transmission parameter's.
Clear log! Mod tested on 1.27.2.1s game version.
Attention! Mod has its own physics, so all the physics mods should be disconnected and removed from the mod manager in order to avoid conflicts! I recommend installing tires on the driving axle from default.
Please, do not repload my mod! Respect my work! I live in a war zone of Donbass and modding gives a small income.Please keep original link if you post it somewhere.
Thank you for understanding! Good game!
Credits:
Reworked & adaptation: Nikola(Konstantin-Donbass) Authors: AMV.tomas, A.Teodor, Matgamer
DOWNLOAD 165 MB
https://www.youtube.com/watch?v=93me7H0d9Ro&feature=youtu.be