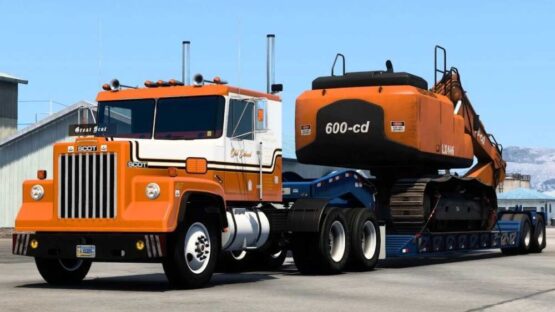 Scot A2HD mod add a nice classic truck for ATS and ETS2 players.
Changes in v2.2:
Adapted to the latest game patch 1.48;
Full DLC support;
View of the rear of the chassis for internal visibility;
Added servo to Varashield accessories;
Improved signal sound loop transitions;
Introduction of the r_bumper accessory type (existing vehicle configurations will require a service visit to fix the missing rear cross member and lights).
Lots of settings and great sound. Truck mod developed by author ,,Smarty" for American Truck Simulator and ported to Euro Truck Simulator 2. Mod comes in various accesories and configurations.Scot A2 has a classic North American layout and straight without frills cab features, serial production was carried out by the Canadian company Scot Trucks in the province of "Nova Scotia", hence the name of the brand Scot! From the beginning of 1972 to 1980, just over 1,000 trucks left the assembly line, some of which were produced in modifications of a truck crane and a snow blower.
Features Scot A2HD:
Independent truck model
High quality 3D model
High quality detailed exterior
High quality detailed interior
High quality rims & 3D tires
High quality mirrors reflection
Correct exhaust smoke position
Correct plate license position
The model has own wheels
The model has own sound
The model has own interior
The mode has animated suspension
The model has a passanger seat
Present the illumination of arrow speedometer and tachometer
The character is correctly sitting in the driver's seat cabin
The choice of wheels configuration
The choice of color body / metallic paint / skins
The choice of transmission, gearbox (18 transmissions)
The choice of power engine (engines)
The choice of cabins (1 cabin)
The choice of chassis (2 types of chassis)
Correct position of the SCOT logo
Working headlights, brake lights, tail lights, front and rear turn signals, steering wheel and reverse signals;
The correct position of the player
Interior accesories configuration
There are external tuning
Cables trailer support
Support for advanced hitch
Support for DLC Cabin Accessories (required)
Support for SiSL's Mega Pack (not included)
Supports all major functions of the game
Buy from Acces Mod dealer
Tested on game version 1.48.x
Credits:
Smarty, Transtar, Kriechbaum
DOWNLOAD 39 MB