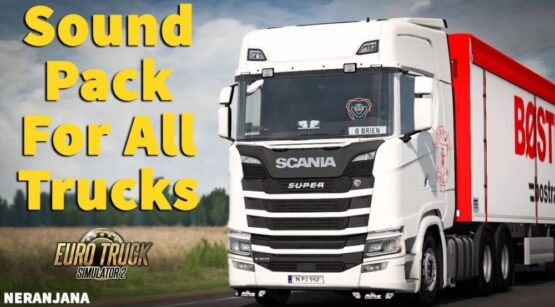 Changelog v7.0
– Full Support for Multiplayer. All sounds now work on multiplayer.
– New interior sounds (Sticks, buttons and warning sounds)
– New interior sound volume balance that came with update v1.43
– New truck noise sounds (suspension noise)
– New Volvo and Renault trucks effect sounds (gear change)
– Rebalanced volume of Mercedes-Benz Actros MPIII truck sound
– Overall update to a new template for ETS2 v1.43+
The new update of SCS-TSRM to version v7.0 brings new and revised sounds along with full support for multiplayer.
In technical terms, the main work that has been done includes the creation of IESAH RastaJr sound bank by improving the previous ISAH RastaJr sound bank.
In simple terms, I E S A H stands for Interior Effects, Sounds, And Horns.
This sound bank was created by re-constructing and improving the previous Interior Sounds, And Horns (I S A H RastaJr) sound bank.
NOTE
– The interior sound volume balance is made in effort to replicate real life cabin insulation.
– The update 1.43 introduced a control to a 3 Band equalizer that can assist to replicate more insulated interior sounds.
– For now, the 3 levels of sound, Low, Middle, and High can be controlled.
– Since the master volume levels for interior sounds still can not be controlled, decreasing the Low sound level was necessary to decrease the overall interior sound to achieve an interior sound that has a cabin insulation close to a brand new truck. Which is supposed to be relatively quiet.
– The interior sound volume balance demonstrated in the video titled Scania R580 V8 Sound and posted in the front page is considered to be approximate to real life insulation without disturbing the composition of sounds, under the given conditions by SCS for modders to use.
Credits:
R.J Productions
DOWNLOAD 36 MB