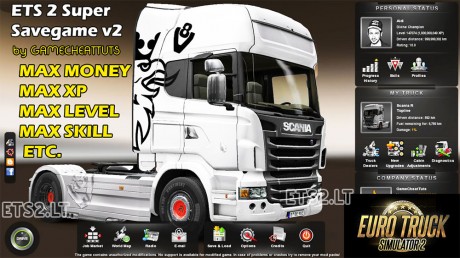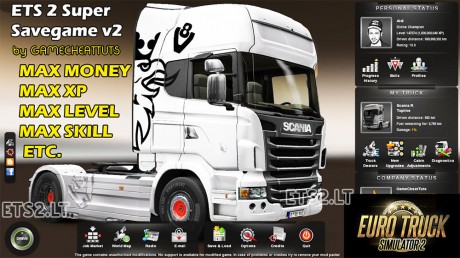 PASSWORD FOR THE ZIP FILE: gamecheattuts
Tested and working for all versions till 1.8.2.5!
Hi my Friends,
After the success and Thousands of downloads for the super savegame i
decided to release an update: v2
Here is the full Savegame v2 for the Euro Truck Simulator 2.
Instructions
1)Paste the "profile" folder to My Documents/Euro Truck Simulator 2.
2)Start the game
3)Load the "Aldi" Savegame.
4)You're done.
Savegame Features:
Money: 999.999.999
Level: 147074 (MAX!)
XP: 999.999.999
SKILL POINTS: MAX
Driver Rating: 10! MAX
Miles Driven: 999.999.999
All unlocked content!
Modificated all trucks!!
Tested and works 100% for all versions
–ELSE– DOESN'T WORK?
Try to start a new game, then save your game.Then try to copy my
profile to the same folder where your profile is! Hope it works!
Or You can watch my video tutorials for cheating Money+XP.
–ELSE–ACTIVATION KEY?
You should buy the game!
DOWNLOAD 1.8 MB
http://www.youtube.com/watch?v=Sc-H757TFus