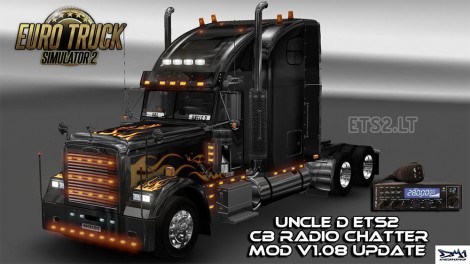 Well here you go virtual drivers, another UncleD CB Radio Chatter Mod version to keep you awake on them long huals around all them ETS2 map version out there! Keep Yacking & Keep Driving and stay tuned for future upades! The mod is simple to install, copy and paste the mp3 file to your ETS2 music folder NOT MOD FOLDER, and turn it on in your sim radio player and go. Hope you U.S. drivers out there enjoy them, and S/O's to all the other hot mod makers out there in the Euro Truck Simulator 2 community world!
This mod was tested in ETS 2 update 1.21
Warning: Language in some parts of ALL my chatter mods is adult oriented. Truckers have potty mouths! LOL!
Uncle D Studios © 2015
All Rights Reserved
Credits:
Uncle D Studios
Credits:
Uncle D Studios © 2015
DOWNLOAD 32.1 MB