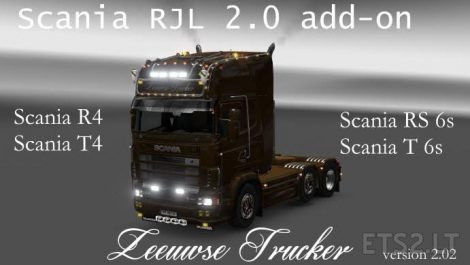 Scania RJL 2.0 ADD-ON by Zeeuwse Trucker.
Scania RS 6 series
Scania T 6 series
Scania R4
Scania T4
chrome parts, interior's exterior's, Weeda, etc.
You need Scania RJL RS and T mod.
You need Scania R4 and T4 mod, links below.
IT IS FORBIDDEN TO RE-UPLOAD TO ANY OTHER FILE SHARING SITE'S AND/OR MODHOSTERS, YOU CAN SHARE BUT ONLY WITH ORIGINAL DOWNLOADLINK AND CREDIT'S. RESPECT FOR THE CREATORS WHO PUT A LOT OF TIME IN IT FOR YOU.
unpack the rar, copy to your mod folder, give Scania_RJL_2.0_Addons_Zeeuwse_Trucker.scs a higher priority then scania rjl rs and t.give 4_s_interior_zeeuwse_trucker.zip a higher priority then scania r4 and t4. you can use the soundfile from the earlier version if you like, put that on top.
I wish you all happy trucking,
grtz Zeeuwse Trucker
Credits:
Zeeuwse_Trucker, RJL/Fordsonmies, Mak-Kyver,GT-Mike, 50keda, Sheryo, Anaheim, Mr. Poland, Szeryff123, EED123, NewTon,SCS, Thunderhawk,Piva, Longlinerv8.
DOWNLOAD 347 MB