Interiors
New Interior for Scania R and Streamline Trucks
Author: LazyTrucker
DOWNLOAD 515 KB
.
I decided to mix alcantara with leather on this one. replacing that wood effect stunned me.
Credits:
LazyTrucker
DOWNLOAD 90 KB
.
In the interior of meshes is not visible because it is a beta version
Only for versions 1.14 !
On the other versions do not set
On the other mods are not tested
added pennant blind and laytmaska
Credits:
SCS, iliyas007
DOWNLOAD 19.7 MB
.
Brown/White Interior for DAF XF Euro 6 Truck
Author: interiormodder00
DOWNLOAD 36 MB
.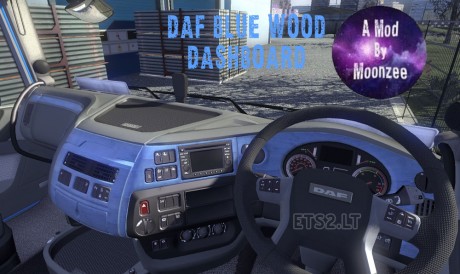 Blue Wood Dashboard for DAF XF Euro 6 Truck
Author: Moonzee
DOWNLOAD 922 KB
.
A nice creamy leather interior, with a nice aluminum dashboard.
Enjoy!
Credits:
bramsmit2009
DOWNLOAD 4.35 MB
.