Lightsign Template for Volvo Trucks.
Created by: Samo MODS (2016)
Working with all versions game!
Author: Samo
DOWNLOAD 43 KB
This mod simulates mild winter weather and environment
Features
Random grey sky, misty and sunny weather
Darker lighting and skies during rainy weather
Darker nights
No thunder or lightning
Leafless vegetation
Winter daylight hours
Appropriate temperature readings
No thunder and lighting
No harvesters
Compatibility latest version: 1.23
Works with Promods, Rusmap, MHA and others.
Changes in 2.1
Updated for 1.23
Some vegetation improvements
Recommended settings
HDR: Enabled
Vegetation Detail: High
Grass Density: High
Important!!
Mild Winter is a weather and graphics mod so other weather, environmental graphics and sound mods should be disabled.
Mild Winter should be given a HIGH priority in Mod Manager.
Author: Grimes
DOWNLOAD 198 MB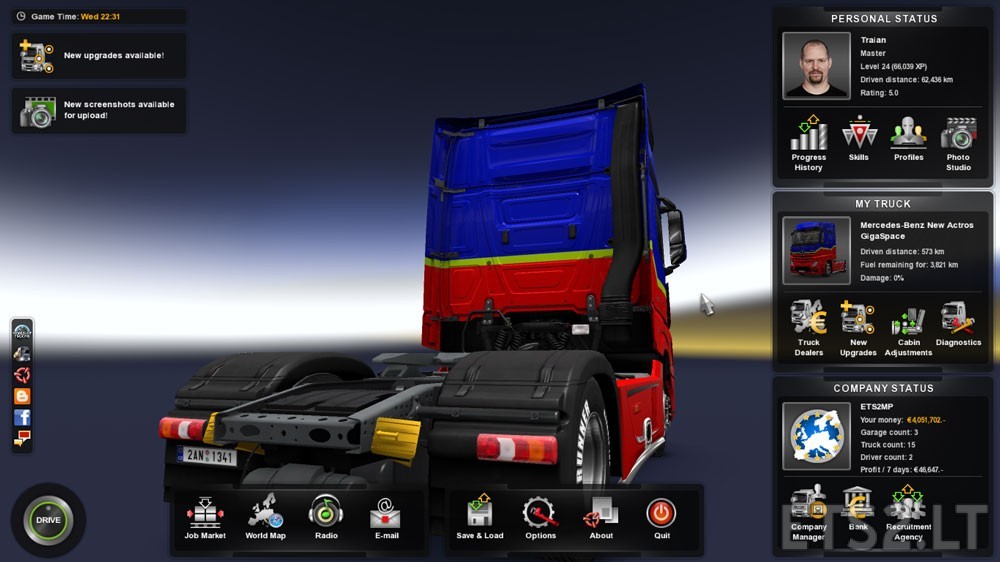 Hello, this is my Profile from v1.23.
I have 4 garages full of trucks, I have explored 57% of the map, I am level 24, I have 4.000.000 money.
No cheat engine used (money is form multiplayer)
No mods required,
You must unpack the archive into My Documents/ETS2/profiles
Have fun!
Author: Traian
DOWNLOAD 1 MB

The modification adds a house in Wroclaw. WARNING ! It requires dlc Scandinavia. It runs on the latest version of the game probably compatible with Promods (unconfirmed information)
Credits:
Tymcio
DOWNLOAD 108 MB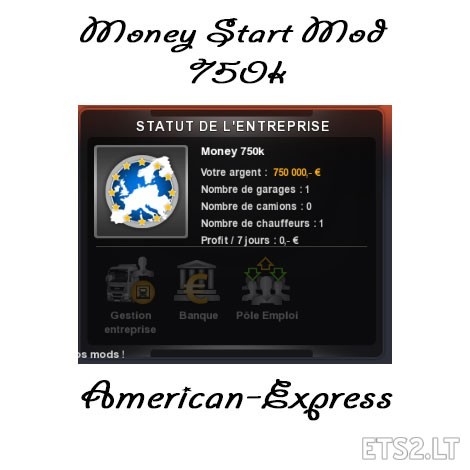 Tested on 1.23.x
Don't Reupload 😉
Enjoy and good game 🙂
Credits:
American-Express
DOWNLOAD 62 KB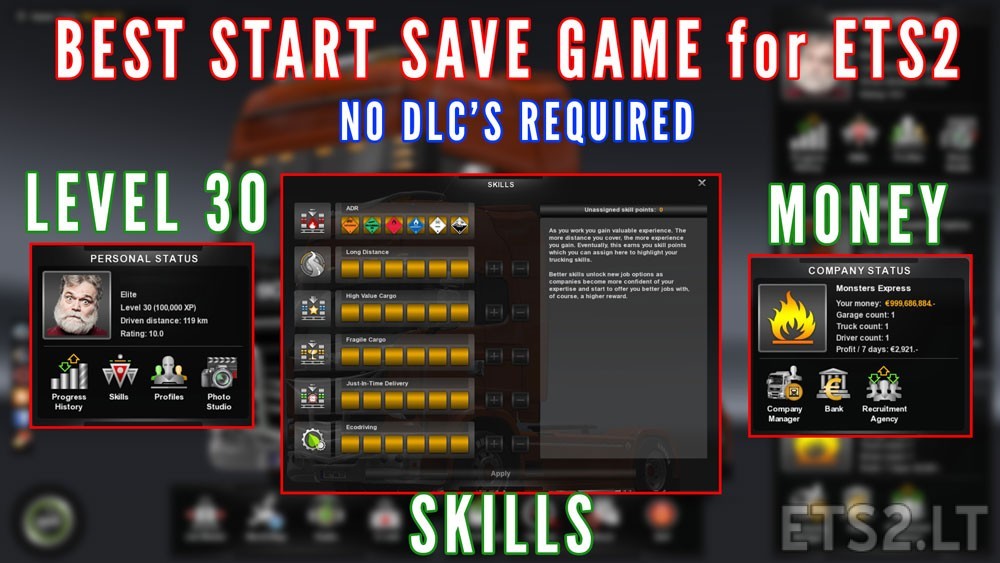 This is a starter savegame for ETS2 beginners (and not). Perfect if you want to play ETS2 with already a lot of money and all the skills.
– Level 30 [All skill points are maxed]
– 999,686,884€ Cash [To buy all the trucks you want]
– This savegame DOES NOT require any DLC, you can use it with the basic game [or with any DLC you might have]
– Tested with ETS2 last version [should work for all versions]
– How to Install:
Just extract the ZIP-file and copy the folder inside to "My Documents/Euro Truck Simulator 2/profiles".
Author: Assenzio
DOWNLOAD 125 KB