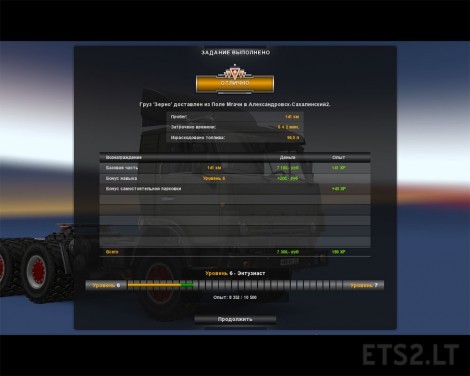 Hard Economics
Mod Update v1.2:
– Fixed errors.
– Edited default rates for each trucks.
– Added fees for the chassis.
– Edited fuel prices.
– Prices lowered crossing.
– Start-up capital of 15,000 rubles.
– Adapted map "Southern Region" (thanks to the author for assistance card)
Tested 1.22 game version
Credits:
Slava2300
DOWNLOAD 0.9 MB

I know how boring is to sleep at hotel, service or parking place.
I made this mod for you to have a place where you can say: "This is my house".
3 in 1 means: House/Service/Fuel. I made 5 places on the map where are the houses. Enjoy it!
Update 0.2:
– solved crash errors;
– rebuild some connections;
Compatible with 1.22.x
P.S: I'll continue this project if your feedback is positive.
Credits:
anto007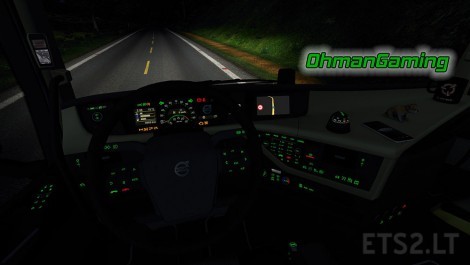 Green dashboard lights for volvo FH16 2012.
Do not reupload!
Tested on version 1.22.x
If you have any sugesstions / requests, write them down in the comments.

Authors: SCS, OhmanGaming
DOWNLOAD 84 KB

This mod simulates mild winter weather and environment
Features
Random grey sky, misty and sunny weather
Darker lighting and skies during rainy weather
Darker nights
No thunder or lightning
Leafless vegetation
Winter daylight hours
Appropriate temperature readings
No thunder and lighting
No harvesters
Compatibility: 1.22
Changes in 2.0
Improved skyboxes
Thicker fog
Evening sun colour issue fixed
Improved low resolution trees
Recommended settings
HDR: Enabled
Vegetation Detail: High
Grass Density: High
Important!!
Mild Winter is a weather and graphics mod so other weather, environmental graphics and sound mods should be disabled.
Mild Winter should be given a HIGH priority in Mod Manager.
Author: Grimes
DOWNLOAD 196 MB

This is my default weather update mod from ATS port to ETS2
Some people ask me to port it into ETS2
Known bug. Falling starts at night not ported here.
I don't test it on ProMods 2.0 but this mod have the same skybox model as ETS2, so it must work correct.
Credits:
piva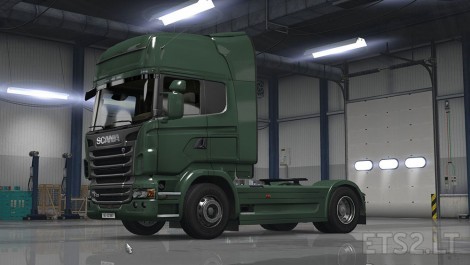 This mod adds background of ATS to ETS2, intro screen, main menu, service screens.
All credits to SCS
DOWNLOAD 3 MB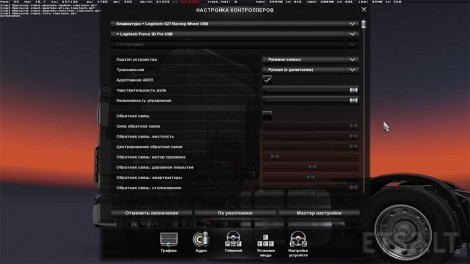 Euro Truck Simulator 2 + American Truck Simulator: force feedback plugin (version 2.4) for Logitech steering wheel controllers with 900 degrees rotation range (G27, G25, Driving Force GT).
Description
Completely replaces the feedback in the game:
1) Developed simulation of friction in the steering (since the steering wheel is rotated without resistance, and the standard damper force is too poorly simulates the force). Simulation of friction allows to resolve a wide "empty" Central zone in the feedback on the twin engine FFB controllers (G25/G27).
2) Due to the detection of "hidden" telemetry parameter (that returns the force on the suspension for each wheel – dev.truck.wheel.suspension.force), for calculation of stabilizing efforts used formulas from the theory of stabilization of the steered wheels of the vehicle. This required parameters of the suspension (caster, camber, inclination of the axis of rotation – can be found in the specifications of the trucks in this Assembly used the corners of the MB Actros MP3). About steering running shoulder – I can't find this info in the specifications, i determined it by the method of looking at photos of the front hubs).
3) Self-stabilization if deformable rolling wheels is still approximately (from experimental data), will be further modified, if possible, the real physical model.
Read more in readme files inside the archive
Credits:
Supric
DOWNLOAD 1 MB