This is the Skin from the Scania Blue Wolf from SPK Transporte
(I am the boss from SPK Transporte ;P)
Credits:
Kevstar66, SPK Transporte
DOWNLOAD 21 MB
Valkyrie Skin for Volvo FH16 2012
Compatible with all cabins.
Tested on: 1.26 version
Have fun ! 🙂
Credits:
Borec, Edli
DOWNLOAD 21 MB
"Michael Schumacher" skin for DAF XF EURO6
Get well soon Schumi….
Credits:
DAFDRIVER
DOWNLOAD 5 MB
– Resolution is 4K.
– Uncompressed and compressed DDS options.
– Changeable metallic colour.
Credits:
Aradeth
DOWNLOAD 5 MB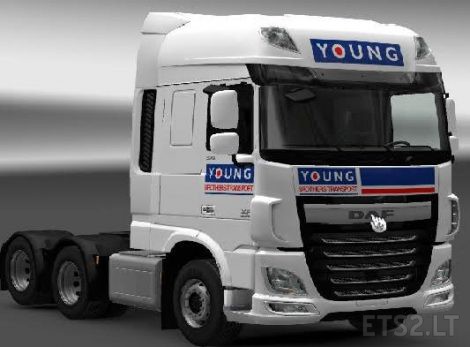 I made this skin for Young Brothers Transport who come from Kent in
the south east of England.
Please dont reupload without crediting myself.
DOWNLOAD 53 KB
Volvo FH16 2009 Classic edited for Euro Truck Simulator 2 which
replaces the Volvo FH16 2009. This mod is compatible with version 1.22
up to 1.26.X.
Credits:
Jhow and Equipe LOG Holding
DOWNLOAD 26.6 MB