Game tested v1.24
– Skin Scania Streamline V8
– Flags V8 (Mod working only with DLC National Windows Flags!)
– Pennants V8 (Mod working only with DLC Cabin Accessories!)
– Tires Michelin V8
– Trailer Jumbo Krone Scania V8
– Scania V8 Sound
– Animation Start steering wheel
– Interior
– Steering wheel Vabis V8
– Dashboard V8
NEW UPDATE v3.0:
Add:
– Scania V8 Sound
– Animation Start steering wheel
– Interior
– Steering wheel Vabis V8
– Dashboard V8
Support me:
https://www.facebook.com/CrowerCZ
https://www.youtube.com/user/TheCrowerGames
DOWNLOAD 75 MB Complete Pack
DOWNLOAD 21 MB Skin
DOWNLOAD 396 KB Pennants
DOWNLOAD 20 MB Flags
DOWNLOAD 43 MB Trailer
DOWNLOAD 1 MB Tires
Author: CrowerCZ
DOWNLOAD MB
This time I made a skin of another polish spedition, Choma. Only for satan19990s Scania 4.
Have fun, Lanker 🙂
Authors: satan19990 (model, template), Lanker (skin)
DOWNLOAD 125 KB
Blue Angel skin for RJL Scania Truk
Credits:
Kuna
DOWNLOAD 21.4 MB
I made my absolute first mod! Its only in v1 and going to get better soon!
Template and images are included in the folder!
Thanks!
Respect the author! Reupload with my name in to it!
Author: Mackan
DOWNLOAD 4 MB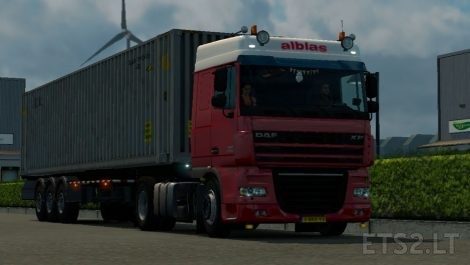 Only for Daf XF 50k Truck
Tested on version 1.24
Author: sansaar93
DOWNLOAD 21 MB
Besiktas, Fenerbahce, Galatasaray Skins for Volvo FH16 2012 Truck
Skins are metallic and for Volvo FH16 2012 high cabin.
Author: Uşaklı™
DOWNLOAD 710 KB