Feya Skin for Scania RJL Longline Truck
Tested 1.25 Game Version
Author: Aleksandro
DOWNLOAD 21 MB
Blue Power Skin for Scania RJL Truck
Respect authors work please do not reupload
Author: Kuna
Credits:
Kuna
DOWNLOAD 21.4 MB

Tabaknatie skins for Scania Streamline and Volvo FH 2012.
I suggest you use this skin with the followings:
–> Scania Streamline: Highline Cabin
–> Volvo FH 2012 : Globettroter and Globettroter XL Cabin
…in order to enjoy the skin at its best.
Credits:
LucianAndrei
DOWNLOAD 10.9 MB
Do not reupload, respect my work!
My FB page :https://www.facebook.com/MrSerbianTruck-1038733336137768/
My Flickr (ETS 2 Photos):
https:[email protected]/
Credits:
Mr.SerbianTruck
DOWNLOAD 21.4 MB
Custom skin "Roadmaster" for the RJL Scania.
The skin fits especially better on the 5-series parts, mainly the grill, because the skin looks bad with his 6-series variant.
_________
Please, do not re-upload this mod for another download websites, and share ALWAYS the credits.
_________
I hope you enjoy this skin. If there's any bug, please say in the comments!
Credits:
SilvaTrucker
DOWNLOAD 355 KB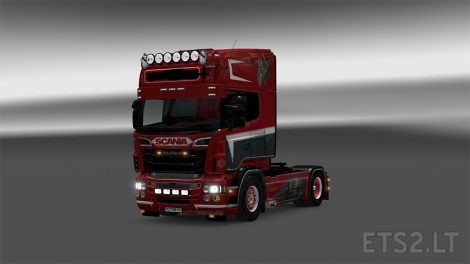 This ist a grundhöfer skin for the Scania RJL
Credits:
Marco(DE)
DOWNLOAD 0.3 MB