– Has its own interior
– Support Interior DLC
– Plastic and paint parts.
– Tested on 1.26
Credits:
Павел Тимохов, Volodia, Rafal
DOWNLOAD 92.8 MB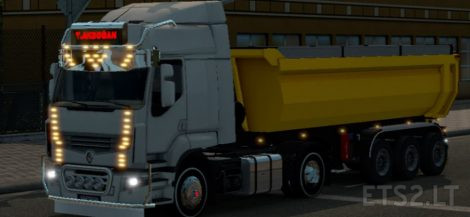 –>Editor:#YEKGARAGE(Yunus Emre KARA)
–>Facebook:https://www.facebook.com/profile.php?id=100010914014048
–>Only for versions 1.25 and 1.26.
Credits:
Truck Mods
DOWNLOAD 4.5 MB

Mod replaces the default Renault Premium!
– 2 cabins, each cabin has a spoiler: 2 for high and 1 for low.
– All chassis
– Added nameplates engines
– Added decals on the side Windows
– 3 front bumper (fully paint, plastic + paint and fully plastic)
– 2 types of front mud flaps
– Completely redone the interior of the EU and partially redone animation EU
– Made real-backlit panel and buttons
– Added collision to the seat of the truck for all chassis
– Used textures from the mod Renault Magnum with permission knox_xss
Updated version 3.6
– With permission of the author made adaptation mod under Signs on your Truck
Credits:
Schumi
DOWNLOAD 11.6 MB
Tested on: 1.25.x.x
Model:SCS
Edit:Batu Han
Edit Forbidden
Credits:
Batu Han
DOWNLOAD 14.3 MB

Magnum 1.26 chassis 6×4 us cat 660 only modifier
Interior route 66: cuir
Engine: 750 hp
Sound: Range T
Credits:
kheops69
DOWNLOAD 24 MB

Tested on: 1.26.x.x
– Standelone
– 3 Type cabin
– Chassis: 4×2, 4×2 lowdeck, 4×2 "offroad". 6×2, 6×2/4, 6×4, 6x with woodlogger
– Compatibility with DLC addons (not with all)
– Sideskirt for 4×2, 4×2 lowdeck and 4×2 "offroad"
V4.7.3
-Reworked speedometer
-Reworked engine cover in cabin
-Added CB radio
-New steering wheels
-1.26 compatibility
Known issues:
-Truck don't have template
Please respect download link, don't reupload it anywhere.
My FB page: facebook.com/RebelShowroom1/
If you find some error, please contact me on my FB page.
Thanks everyone who was on the truck involved in something.
Credits:
Rebel8520, Dominox, Homer's, 50Keda, Paťo and others…
DOWNLOAD 171 MB