Kenworth T680 from ATS for ETS2
– Find by Scania Dealer
– Standalone Model
– ATS Wheels included
– ATS Paint included
– 3 Cabin
– ATS Kenworth Sound
– Tested on 1.22
What's New:
Fully corrected residence of the truck as well as the in quick job while cursing the log files on the missing residence job in the UK
And back missing "mat" Peterbilt logo, the entire log is now completely clean!
Credits:
SCS, adaptation in ETS2 Advent, fix crash – Phantom94
DOWNLOAD 50 MB

Tested version 1.22
Replaced: Scania Gallery
Credits:
scs, enestunca
DOWNLOAD 16.7 MB

Enjoy this super Scania made ​​by Conbar. Now in version 2.0 has the following characteristics:
– Aerials before pegylated fixed
are now optional, it has dual front, only the left, only the direct and still have the option ago antenna, dual, on the left or right.
– The rear tanks now has two types, one being one or double.
– Upper front grille now has her original; paintable and chrome.
– Lower grille is unique; paintable; chrome and black.
– Parachoque has two types, the original and other lower paintable.
– Glass has five options: dark medium, black, and 3 more color: blue, red and green.
– Speedline wheels.
– Pack tabs chrome.
Credits:
Conbar
DOWNLOAD 88.2 MB

Inside this Mod
– Scania 143m 450 Van londen Transport (Standalone)
– Wheels for Scania
– V8 Sound
– Schmitz Trailer Van Londen Transport (Replace Aero Dynamic)
– Vabis Wheel
– for game Version 1.21 and 1.22
Credits:
SCS, Jetta2000
DOWNLOAD 66 MB
Version 2.3:
* Fixed bugs the previous version
* Fixed mirror
* Added 3 new skins
* Fixed lighting of the dashboard
Tested 1.22 game version
Author: Shumi

Works on 1.21.x – 1.22.x
Cabin AO baked
No tuning
Author: CsigaBiga
DOWNLOAD 30 MB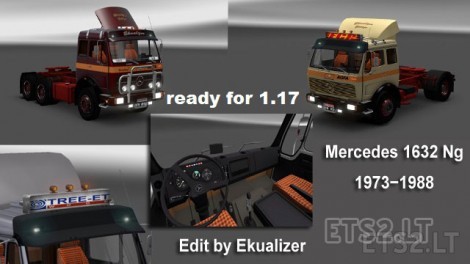 This truck is completely autonomous.
You can buy it from Majestic dealer.
Specifications is taken from the original documentation
Model is skinnable
* Fixed a crash in quick job
Authors: The authors base model: Ventures87,Stels, Sobral, Kirill73rus Heavy edit: Ekualizer, fix crash – Phantom94
DOWNLOAD 39 MB