Converted ant edited: Domas225
Wheels
Interior
Nice details
1.17.x
Credits:
GTS:? ETS2 (konvert/edit): Domas225
DOWNLOAD 90.2 MB

Replaces Scania R
A lot of modifications
Like NL style truck
Tested and works on absolutely all versions.
Enjoy.
Credits:
VLASTA, ADO, ZEUS, JIŘI
DOWNLOAD 91.9 MB

Turkish Edited DAF XF Truck
Authors: Özkan Yeter, 50K, SCS
DOWNLOAD 64 MB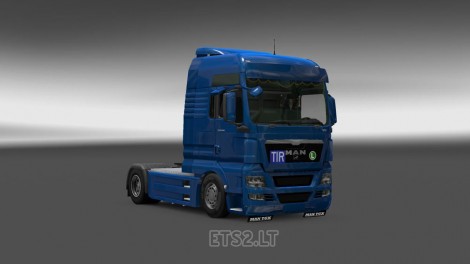 Version 2.0:
– Chassis lowered suspension spelled out separately and selected tuning
– Hind wings in two variants: plastic in the body color
– Navigator Lexand increased slightly
– Arrows devices made lighter
– Reduced the greenish glass
Added accessories:
– Side curtain.
– Factory visor with an inscription
– DVR: screen to configure through F4 "front mirror" (two installation point, and if put, it is necessary to remove the front mirror, because it will be displayed incorrectly)
– Leather trim on the rear wall (put out)
– Blankets, pillows, sleeping bag in
Authors: SCS, knox_xss, Matthias, ton
DOWNLOAD 39 MB

Version 1.2:
– The updated chassis are compatible 1.17 Version
– The modified road gleam for more realistic
– Moved 4х2 fifth wheel in the opposite direction to reduce collisions between the trailer and highpipes
– The counted volume of fuel tanks
– The forward lattice options is remade
– Measures for cabin ISKL now the removable
– It is added the flattened steps for cabin ISKL
– The chromeplated and painted rings for fog lights are added
– Light slots for a forward lattice is added
– It is added by Skaniya with the King of the Road Emblem logo
– Some improvements for textures and materials
– Some other small corrections and changes
Credits:
Truck: RJL (Fordsonmies)
Others: GT-Mike, 50keda (a few parts from both), SCS Software
DOWNLOAD 73 MB

The flag has been removed
New Textures Added
Enable the right plate for navigation
Credits:
.SrqN.
DOWNLOAD 11.1 MB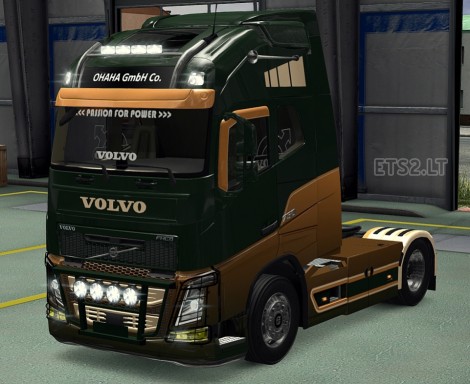 This mod is baset on FH16 2012 v 18.4.3r ohaha, but contains everything, which have standalone (Volvo FH 2013 ohaha) version. Also added accessories and 8×4 chassis for quick jobs. This mod will be updated, after ohaha updated standalone (Volvo FH 2013 ohaha) version
Version 18.4.4r:
– Update for 1.17.x version
– Small fixes
– New engine grid variant – black mesh with chrome edges
– The dull chrome variant of the engine grid is now with 3d mesh
– Reworked mirrors
– Thinner casing edges for the interior view
– Painted variant now similar to vanilla (plastic casing and handles with only the mid ornament painted)
Authors: ohaha, Pendragon
DOWNLOAD 45 MB