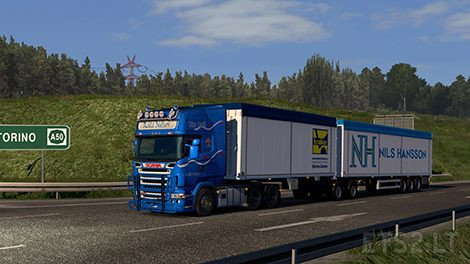 Trailer is Kraker Walkingfloor with 3 types of trailers. Standard, scandinavian type and with tail-lift.
+ B-train trailers.
Game version 1.28.xx
-Standalone
-Advanced coupling
-Trailer lift axle
-Steer axle
-Company paintjob system
-Animated braces
-Ai Traffic
-LOD Models
I added two addons to the pack. Main mod spawns doubles every countrie. One addon is for Scandinavia only and other is for Promods countries. Just place addon above the trailer mod!
Changes for v1.3
-Animation for link trailer landing legs
-Added cargo def files for only scandinavia and promods countries
Author:
Trailer: Kast
New skins: Nordisch
Wheels: Bora
B-link trailer wheels: Abasstreppas
Shadow tweaks: Abasstreppas
Credits:
Kast, Nordisch, Bora, Abasstreppas
DOWNLOAD 31 MB