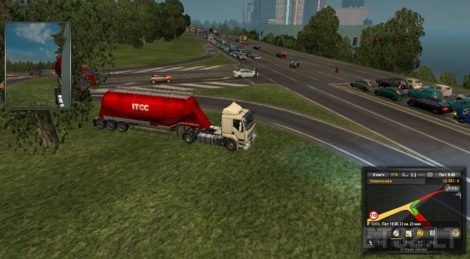 This mod is mostly designed for those players who like high traffic and are bored with one lane-interchanges. However, high traffic causes traffic jams and slower traffic flow. My mod will increase the speed/fluidity of the traffic flow through the following modifications:
– I added semaphores on all crossroads where are at least 2 entrances with 2 lanes. I didn't do it on some crossroads in cities, between two crossroads with semaphores. I am sorry for traffic lights in air, adding poles takes too much time. For me, the most important is that semaphores are working.
– I replaced all one-lane interchanges with two-lanes of same type.
Here you can choose files which you want to download, ask any question, report bug/crash and follow my work:
https://www.promods.net/viewtopic.php?f=42&t=14202
There are all my mods.
Changelog:
Better traffic flow doesn't suport anymore removing toll barriers. To keep this feature, use Automatic tolls.
Credits:
Brainiac
DOWNLOAD 24 MB