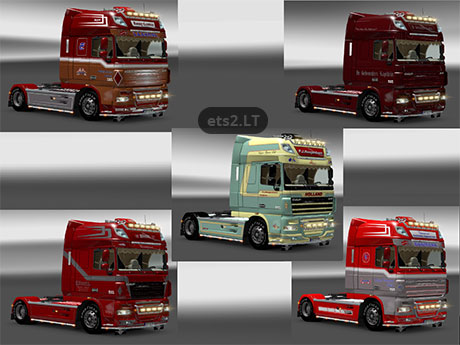 Here a preview of a project what is made by:
Original DAF is made by 50keda for GTS/ETS
Peerke145: Converting to ETS2, Modding and Skin gebr. Kapitein
Volvoduck: Skins P J Hoogendoorn and Weeda, Little rework: Freddy Jimmink
Alexius: Skin Wetter Danmark, Little Rework: Freddy Jimmink
Freddy Jimmink: Skins Ronny Ceusters, JP Transport Service and Transportena
In total we make 10 till 12 skins on this beautifull truck
The truck will be released in aproximently 3 months from now, and after permission form 50Keda,
Thanking forwarding all who worked on this truck and in name of all who worked on the truck we hope You like it,
Now only preview
Minimum System Requirements
Windows XP/Vista/7, Dual core CPU 2.4 GHz
2 GB RAM, graphics card with 256 MB memory
(GeForce 7600 GT-class equivalent or better)
Recommended System Requirements
Windows 7, Dual core CPU 3.0 GHz
4 GB RAM, graphics card with 1024 MB memory
(GeForce GTS 450-class equivalent or better)
We are happy to confirm that the next major update of Euro Truck Simulator 2 is going to come with officially licensed DAF Trucks branding for the XF tractor.
Read more for images and more info.