Euro Truck Simulator 2 1.38 update released. First of all, one of the more significant changes that drivers will notice across the map at most major cities in the introduction of newly designed and unique truck brand dealerships. All dealerships locations across the Euro Truck Simulator 2 map have received a refresh, so make sure to visit them in-game as you drive past (it is well worth the stop!).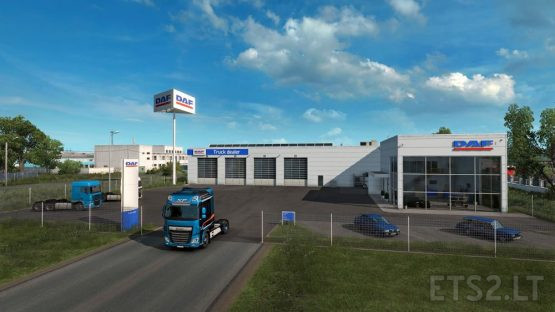 The French city of Lille has also received a reskin in this update. Some of the main changes include updates to road junctions, which have been re-worked and created with more accurate layouts. Road signs and roads, in general, have also been updated with more accurate, realistic, and detailed textures, along with new buildings and assets. If you happen to be passing by on delivery, creators recommend making some extra time to see Lille for yourself.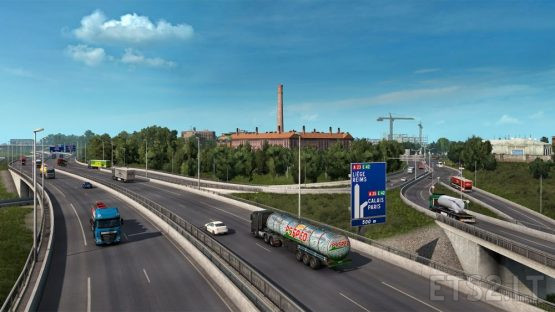 SCS team are also excited to introduce the inclusion of a computer graphics technique for efficiently approximating ambient occlusion effects in real-time. Screen Space Ambient Occlusion, better known in its shorter form SSAO, creates shadows in the areas where objects connect, to give it a more natural and believable look in terms of lighting and shadows.
Less powerful GPUs may struggle to keep up at full quality, and with 400% or similarly high scaling selected, even mid-range machines would feel the impact on fps. If you are not happy with framerate after this update, please open the advanced graphics options in the game and try to find the right combination of scaling and SSAO quality for you. With a weaker GPU, it may be advisable to switch off SSAO completely.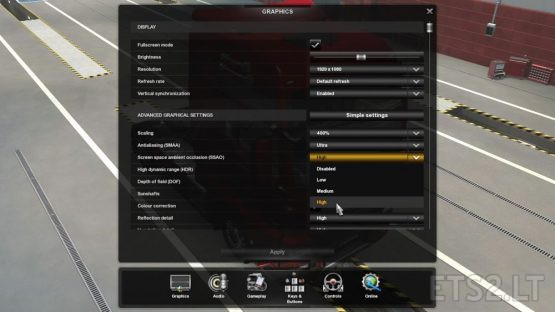 SCS are also happy to introduce a long-requested update to the RGB Color Picker which drivers use to paint their trucks when purchasing or tuning their truck. You now have the option to input specific color inputs (HSV, RGB, and HEX).
Many drivers like to match their truck colors the same across their whole fleet, so we hope this feature is useful to you.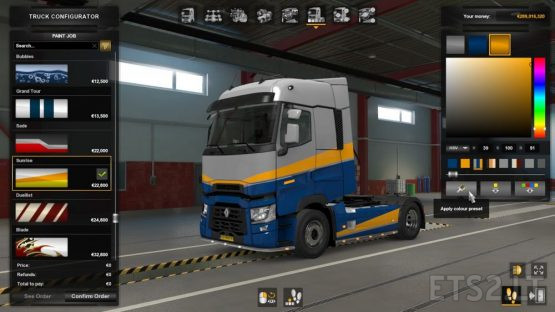 There have also been changes made to our GPS Route Advisor, which now features a cleaner and more modern-looking UI allowing for a larger on-screen map view. That's not all, however, as we also added new information for drivers using checkpoints for their journeys.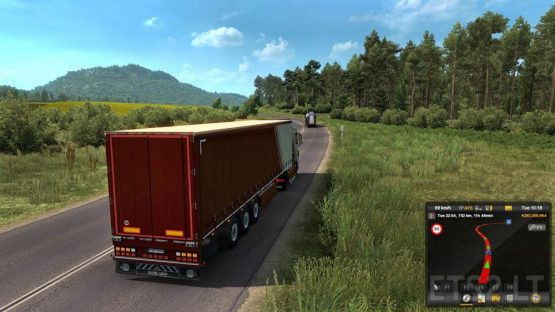 Players will now be able to see useful information on their next checkpoint markers such as the distance to their next checkpoint, and their estimated time of arrival through their GPS and world map.
The DAF XF Tuning Pack has also received a small update which will now allow all DAF trucks chassis covers to be painted. We look forward to seeing how drivers will take advantage of this new customization on their DAF fleet as we know many drivers like to match their truck colours.
The FH Tuning Pack for Volvo Trucks has also received a small update based on feedback from our community. Drivers can also expect to find new tuning parts including front wheel covers, side deflectors with LEDs, stock front bumpers and rear top fenders with plastic and chrome options.
3 new Special Transport routes for drivers to take on in our latest map expansion for Euro Truck Simulator 2, Road to the Black Sea. These routes are:
– Reșița to Târgu Mureș
– İstanbul to Edirne
– Pleven to Sofia
Each journey will come with its own challenges. So make sure to adhere instructions given on the GPS advisor and the speed limit which have been set out for you before your departure, as there is no room for mistakes!