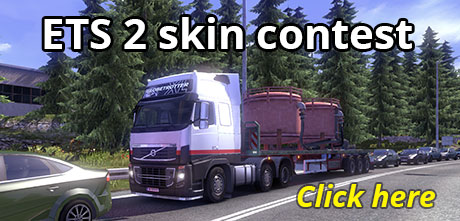 Hello all ETS 2 fans!
We are running a ETS 2 best truck skin (mod) contest. Skin, which will get the most likes, wins the competition.
This is not a skin screenshot contest, this is skin mod contest!
What you need to do?
– You need to create skin for original ETS 2 truck and send for this contest.
Competition rules:
1. One participant – one skin for contest
2. You can participate only with own work!
3. You can send skin only for original ETS 2 truck (no Peterbilt's, buses etc..).
4. In contest participates skins only, what send from this form.
5. All works we will share in ets2.lt.
You can send skins from now to October 24.
Voting period: October 25 – 27
In voting period we will create special voting page for all contest skins. Also we will make new screens for everyone skin!
We can ask you to send skin creation proof!
Prize: 25$
We will pay for winner per paypal, payza or other bank. Also we can buy the game from the steam (max 25 USD).