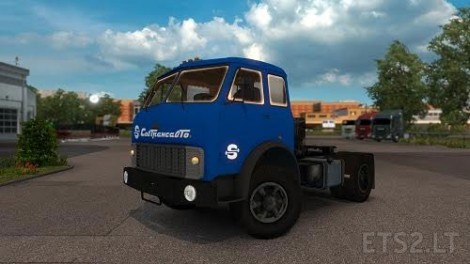 Soviet cult truck MAZ 504V with real specifications chassis, engine and gearbox, designed for fans of realism.
List of changes:
– Replaced the engines for real, with real features that really can be mounted on the MAZ (YaMZ 238, YaMZ 238 MD5, YaMZ 7512).
– Replace the gearbox to the real, the real characteristics that really set this truck (YaMZ 238).
– Characteristics of the chassis (excluding the volume of the fuel tank – real 200 l., in the game 350 l.) are real values.
After the name of each transmission, I have two options – FG (first transmission gear ratio) and D (differential gear ratio).
The higher differential ratio (D), the more thrust and less top speed.
Maximum trailer weight – 25 tons.
Tested on 1.21 – 1.22
ATTENTION!
Since version 1.22 physics has been changed (not to the best), towing long trailers, all costs, avoid very steep slopes and particularly serpentine!
Since the description of the mode word was not mentioned on the prohibition of the change in this mod, as well as publication of modified versions of this mod, I think that copyright is not violated all the more that the model did not change the chassis.Changes were only specifications.
Credits:
Author: Kosa6414 Parameters engines, gearbox and chassis: Tornado
DOWNLOAD 33 MB
https://www.youtube.com/watch?v=xJwj_Tg4X7A&feature=youtu.be
https://www.youtube.com/watch?v=7ylo54FZS-s&feature=youtu.be