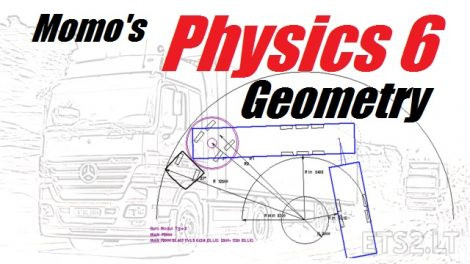 ** IMPORTANT: You need a separate air suspension seat mod to work with this mod, choose an air seat of your chioce from the links below:
Choice 1: Air Ride A Series 1.0
https://ets2.lt/en/official-air-ride-a-series-1-0-by-momo/id=1210778974
Choice 2: Air Ride B Series 1.0
—————————————————————————–
This is an official upload of Momo's Physics 6.1 Geometry.
—————————————————————————–
ABOUT THIS MOD:
"Physics 6.1 Geometry" is a sequel of "Physics 6.0 Beat the Geometry". The newer version does not replace the older one because it contains major changes which many not be preferred by some users. So i decided to keep both versions available.
CHANGES IN 6.1 FROM 6.0
1. Improved the cabin pitch to a more realistic level.
2. Improved the front wheel suspension to be slightly firmer.
3. Removed the air suspension seat to be a separate mod of your choice as mentioned above.
4. Reduced the truck weight by 1 ton, from 8.5 to 7.5 tons correctly equal to real life trucks.
CHANGES FROM THE VANILLA GAME:
1. Increased truck turning radius (circle) to match real life trucks.
– This mod = 11.5 meters.
– Real life Scania R = 12.5 meters
– The vanilla = 8.5 meters
– Please be aware that you need more space to make a circle turn.
2. Increased steering ratio (steering degree : wheel turning degree)
– Real life truck = 20:1 or higher
– The vanilla = 12:1
– This mod = somewhere close to 20:1 (classified information)
3. Virtually increased steering wheel turning degree lock to lock:
– Real life truck = 4.9 turns (1800 degrees)
– The vanilla = 2.5 turns (900 degrees) same as your Logitech G25/27/29
– This mod = virtually increased higher than 2.5
4. The changes from 1 – 3 above result to a realistic, smooth steering as a real life car.
5. Realistic cabin movement as studied from real life trucks.
6. Realistic wheel suspensions.
USER INSTRUCTIONS
In order to experience the full effect, you MUST do exactly this:
* This mod is optimized for 900 degree wheels.
* May not be suitable for keyboard/joypad.
– 100 % Steering sensitivity
– 0% – 50% Non linearity
– 0% Trailer Stability
– 100% Camera physics
– Give this mod the top priority.
– Your steering wheel bundle software 50% sensitivity.
COMPATIBILITY
– Patch 1.30 compatible
– All SCS's trucks compatible (including the new Scania S & R)
– RJL Scania R compatible
– RTA Renault Range T 6.2 compatible
– Scania 114L by Tiana95 (4×2 only) compatible
– More modded trucks coming in the future
– Not compatible with other trucks (will not work correcrly)
– Not compatible with other physics mod.
USER AGREEMENT
By subscribing this mod, you have agreed that:
– If you want to re-upload anywhere else, you will use only links provided by me:
http://sharemods.com/moxjsu4tcra6/physics_6_1_0.scs.html
DONATION ?
This mod is and will always be free of charge. However, tips are always appreciated.
You can donate by Paypal or Steam Wishlist/Trading Cards.
https://www.paypal.me/aaticha
FOLLOW MY MODS ON FACEBOOK FAN PAGE
"Momo's mods"
https://www.facebook.com/Momos-mods-365686307191461/
Credits:
Momo, Yuna
DOWNLOAD 134 KB