Pack adds in traffic 378 new AI cars:
Mercedes-Benz A(W169), B(W246), C(W202, W203, W204), E(W124, W210, W212, W213, S212), S(W220, W221, C217), R, ML, G, CL, CLK, X, GL, CLA, CLS, GLC, GLE, Vito(W639, W447), Vario, Sprinter(903, 906)
BMW 1(E82, F21), 2(F87), 3(E36, E46, E92, F80), 4(F82), 5(E34, E39, F10, F11), 6(E63, F13), 7(E38, E66, G11), X1(E84), X3(F25), X5(E70, F15), X6(E71, F16)
Audi 80(Avant), 100(C4), A1, A2, A3(sedan, sportback), A4(B5, B6, B6 Avant, B7, B8, B8 Avant), A5, A6(C5, C6 Avant, C7 Avant), A7, A8(D2, D3, D4), Q7, Q5
Volkswagen Touareg, Golf(2, 3, 4, 5, 6, 7), Polo, Tiguan, Arteon, Fox, Beetle, Scirocco, Passat(B4 Variant, 5, B6 Variant), Lupo, Up!, Bora, Jetta, Crafter, Corrado, Transporter(T4, T5), LT, Amarok
Renault 19, 21, Kangoo, Laguna(1, 2, 3), Fluence, Scenic(II), Master, Clio(I, II, III, IV), Espace(III, IV), Megane(II, III), Twingo, Trafic
Fiat Panda, Fiorino 3, Freemont, Punto Evo, Multipla, Albea, Palio, Brava, Barchetta, Ducato (Camper, Van), Coupe, 500
Alfa Romeo 145, 147, 155, 156, 164, Brera, Mito, GT, Giulia
Citroen C1, C2, C6, C8, Nemo, Berlingo, Xsara Picasso, XM, DS3, DS4, DS5
Peugeot 106, 107, 108, 206(Hatch, cc), 207, 307, 308, 406, 508, 605, 607, Partner, Bipper
Seat Leon('03, '10), Ibiza, Arosa, Altea, Toledo
Dacia Logan, Duster, Sandero, Lodgy, Solenza
Skoda Octavia I, Superb, Yeti
Opel/Vauxhall Vectra C, Astra(F Caravan, G Caravan, J Hatch, Caravan), Omega A, Zafira, Insignia(Sedan, Wagon), Meriva, Agila, Corsa(D, E)
Porsche Cayenne, Panamera('09, Sport Turismo '17), Macan
Ford Focus(1, 3), Mondeo Wagon, Scorpio(I, II), Transit'10, Kuga, Galaxy, EcoSport, Fiesta, Ka
Bentley Arnage T, Continental GT, Bentayga
Land Rover Discovery(2, 3), Freelander(I, II), Evoque, Range Rover
Smart Fortwo
Knaus Sun Liner
Maybach 62
Rolls Royce Wraith, Phantom VIII
Saab 9000, 9-3('02,'08), 9-5
Volvo 850(sedan, wagon), 940, S60('04, '11), S80, V40, V60, C30, XC90
Jaguar XJ(X350), XE, F-Pace
Aston Martin Cygnet
Maserati Quattroporte, Ghibli, Ghibli II
Mini Cooper Roadster, Clubman
Lancia Delta, Thema
FSC Zuk A-11
FSD Nysa 522
FSO Polonez Caro Plus, Atu Plus, Kombi, Truck Plus, 1500
Toyota Corolla, Yaris('99, '08), Aygo, Prius, Avensis, Land Cruiser 200, Hilux, C-HR
Lexus IS(XE10, XE20, XE30), CT200h, GS350, RX, LS460
Subaru Legacy(05, 10), Forester, Levorg
Honda Jazz, Civic('94, '04, '07, '15, '19), Accord, CR-V('01, '15), CR-Z, Insight
Mazda 2, 3('08 hatch, '12 sedan), 6('06, '08, '15), 626, Premacy, Xedos6
Suzuki SX4, Liana, Swift
Nissan Micra('11, '17), Primera(P11 Wagon, P12 Sedan, Wagon), Juke, Leaf, Murano, Patrol
Mitsubishi Colt, Lancer(VIII, IX), Pajero, Outlander, L200
Hyundai i20, ix20, i30('07, '17), ix35, Getz, Santa Fe, Veloster, Genesis Coupe
Infinity Q50
Daewoo Lublin 3
Kia Sportage, Carnival, Soul
Chrysler PT Cruiser
some trailers for cars
police cars for 11 countries
All standalone, works on any maps.
Included real 3D logos for default cars and about 600 skins for different vans.
Models of other authors: Dacia Logan (Srele), MB Vito, W210, VW Passat B5, Renault Kangoo (Alexx_Os), Alfa Romeo Brera, Mito, Audi RS5, RS6 Avant, VW Golf 6 (Serj999), some skins by IJ's Mods.
Compatible with all my packs.
For version 1.35.x
Version 10.5 – added motorhome Knaus Sun Liner, Mercedes-Benz Vito(W447) and 7 new skins for Iveco Daily and Mercedes-Benz Sprinter.
Credits:
Jazzycat

Good evening everyone.
I wanted to somehow put the usual steel hubcaps for the entire hitch in a circle. After a long and unsuccessful search with a survey of many variations of several tuning packs (mostly Turkish, with very unusual, but unusual forms), I decided to do it all on my own. He started with a cap for the front wheels, and only then decided to make the rear ones, because the "Hatch" cap from SCS did not look completely harmonious with mine. I present the result to you.
For possible flaws in appearance, form and possible technical deviations from any particular model of a particular manufacturer, please do not scold too much, the task was to achieve only a more or less recognizable appearance, which is called "based on".
Hopefully, SCS someday will make such a pair themselves for their "Hatch" caps.
The modification adds to the game caps of wheels made of stainless steel with round holes, suitable for installation on the wheels of both the towing vehicle and the semi-trailer.
Due to the variety of tires and disks, both standard gaming and other modifications, caps do not always stand up perfectly. I recommend to put them on the following models of rims:
– for the front wheels of the tractor: wheels "Absolute Fury";
– for the rear wheels of the tractor: wheels "Standard";
– for semi-trailer wheels: "Standard" wheels.
Tested on version: 1.35 *
Work on previous versions is not guaranteed!
* previously checked for 1.33, on which I am still sitting, but the PMG files had to be updated under the latest format, and, unfortunately, I was able to check them only on ATS. But since the PMG formats on version 1.35 are the same for both games, I hope that nothing will be critical.
If necessary, I can post a version with old PMG formats for the game version up to 1.35, for the same "old believers" like me 🙂
Credits:
il_86
DOWNLOAD 1 MB

Supported Chassis:
4×2, 4×2 Low deck and 6xx
Credits:
LPMODS, RJL
DOWNLOAD 13 MB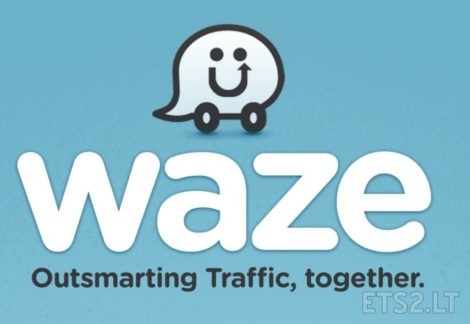 Welcome to my first mod ever.
This mod adds the Waze Jane voice to the GPS system in-game.
All the sentences used by the default game are not present in this mod because some of them are not used but Waze. I've replaced those sentences by sound effect used by the application.
Features :
– Navigation indication are announced earlier than with default game ( Not at the exact moment you turn, exit, or have to change way)
– 4 Different sentences to start your ride (All the one from the default waze) including one with 2 different voice tone
List of sentences replace by sound effect :
– U-turn
– recomputing (Use of the real sound used by Waze)
Plan for further update :
– More variety for "start" Now include in 1.1.0
– Fix of "exit now"
– Probably a replace of the "speed vocal warning" I found not really accurate but Waze don't have a proper one
Changelogs :
1.0.0 : Initial release
1.0.1 : Fix for the Keep Left and Keep Right ( Now working)
1.0.2 : Fix of a wrong name of the voice pack in game. The pack is now called English – Waze as it should (EMERGENCY FIX )
1.0.3 : – No new addition to the game
– Cleaning in the mod files to prevent further bugs
– Update of the voice pack name in-game, it's now sorted at top of the list
1.0.3.1 : Fix of a bug with the Steam Workshop version
1.1.0 : Add of 4 new sentences for "Start" including one with 2 different voice tone
Credits:
Oslo and Waze
DOWNLOAD 923 KB

Sounds are extracted from iGO's real navigation
The mod contains the voice of a little girl named Julka
Mod tested on the version of the game 1.35.1.13s
Works correctly if you notice errors, let me know in the comments I will correct in the next version of fashion
author: R.K.M
Do not re-upload to other servers,
keep my links if you intend to share them.
Do not use my modifications in other works without my permission
If you like it and want more of my mods
support my son's patient's treatment
https://paypal.me/pools/c/8fAqm8x8ks
sorry for my English
Credits:
R.K.M
DOWNLOAD 2 MB

This is the second in the series of navigation voice
Sounds are extracted from iGO's real navigation
Mod tested on the version of the game 1.35.1.13s
Works correctly if you notice errors, let me know in the comments I will correct in the next version of fashion
author: R.K.M
Do not re-upload to other servers,
keep my links if you intend to share them.
Do not use my modifications in other works without my permission
If you like it and want more of my mods
support my son's patient's treatment
https://paypal.me/pools/c/8fAqm8x8ks
THANK YOU FOR EVERY DOWNLOAD
I WISH YOU WIDE
sorry for my English
Credits:
R.K.M
DOWNLOAD 4 MB