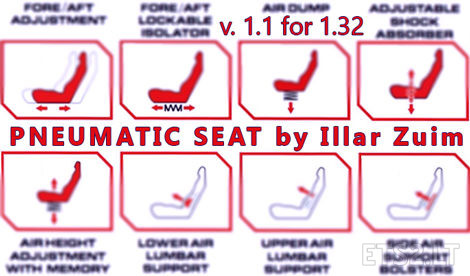 *DO NOT REUPLOAD , KEEP ORIGINAL DOWNLOAD LINK*
Tested in 1.32.3.14
Imitation compensation movement of driver seat.
Set higher Priority then phisics mod.
Take care Your Head on "les coussins berlinois" (speed bumps)! 😉
and people, who use this mod, write that you can fall out of the chair on the turns 😉 be Сareful
tnx for Collective Minds in threads on forums, Momo, Big-Russian-Bear, SCS and my family!
You can share this on other sites but KEEP ORIGINAL DOWNLOAD LINK AND CREDITS!
DO NOT REUPLOAD TO OTHER FILE SHARING SITES! For personal use is free.
Credits: Illar Zuim
Donation/motivation:
ETH wallet: 0x9602ddea323e4daacbebe155fd9c834bdd69d793
BTC wallet: 1AVL2q5pcheYboNtnF52HEKS53TvDGqo2r
Credits:
Illar Zuim
DOWNLOAD 157 KB
https://www.youtube.com/watch?v=JNTJO4M_uTo