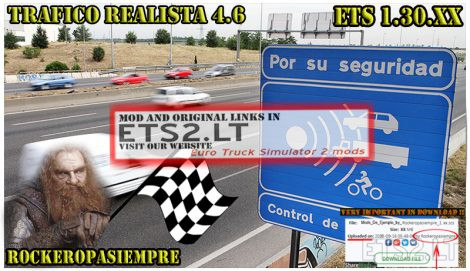 Update of mod.
PROHIBITED TO RESUB THE MOD TO ANY SERVER WITHOUT PERMISSIONS.
General Specifications of the mod:
– 2 Versions inside the rar file. One normal, and one that does not include sounds (NO EXTRAS). Choose one of the 2.
– Mods manager: Always place on top of any AI traffic mod you have.
– Multitude of different colors for AI cars. Thanks CIPINHO.
– Increase in overall volume of traffic on all roads.
– Less patience in the behavior of AI drivers.
– Descent of police cars
– Compatible with all maps and Dlc's of the game. (Going East, Viva la France, Italy, Heavy Cargo, Special Transport)
– Compatible with all AI traffic mods-packs. (Place the mod on top of the IA packs you have).
– Traffic behavior of the AI ​​totally different from that of the original game.
– Complete information inside the downloaded rar. File INFO.txt.
Changes in version 4.6
– Regulated practically almost all the traffic behavior adjustments IA.
– More real behavior for the AI ​​in the incorporation in Motorways.
– Less time for AI vehicles to accelerate, this makes them accelerate more, in less time.
– General level of accidents in the AI ​​decreased. It makes a quiet and smooth ride, Although sometimes you can see the odd mishap.
– Driving for the user more pleasant and quiet.
– Colors of vehicles and trucks of traffic AI more real and alive.
– The largest possible number of pink colors have been eliminated for IA traffic, as well as pastel shades. In future updates will be improved more.
– Decrease of exterior sounds inside the cabin. (For those who use the normal version).
– Filling sound with voice, cut slightly. (For those who use the normal version).
Author:
Rockeropasiempre
Weight of the winrar file: 129.4 Mb
Credits:
Rockeropasiempre
DOWNLOAD 129 MB