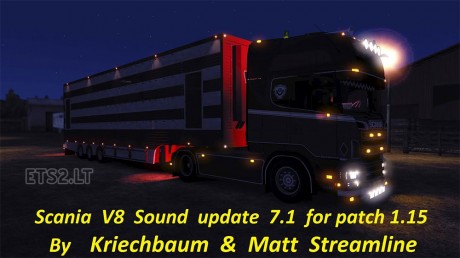 Hi all,
It's christmas day very soon, and i want to share this nice update of the V8 sound version 7. We worked hard on it (Matt Streamline & me).
Here are the changes :
-Improved 1000 & 1600 exhaust and idle sounds, and tweaked some others.
-Improved turbo-idle sound
-New tires/bearings sounds
-Full support for patch 1.15. It works on 1.14 but it will not sound as good as in 1.15. This sound is optimized for 1.15.
Also with this new patch, we can rev and hear the exhausts sounds even if there's no gear engaged. This is very nice for the realism. Thanks SCS !!!
This sound mod works on those Scania :
R, Streamline, T, Reworked Streamline by Punisher, R2008 50Keda. (5 trucks in total).
Credits:
Kriechbaum, MattStreamline
DOWNLOAD 57 MB
Video 1:
Video 2: