Straight 6 open pipe sound Megapack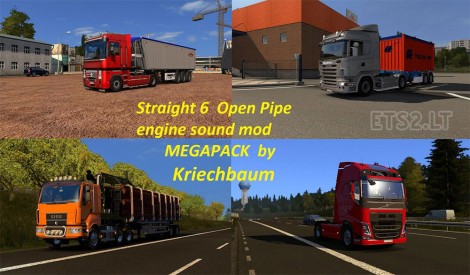 Hi all, here it is !
Final version of the new L6 engine sound for (almost) every trucks.
This pack gives you this sound for those trucks:
-Renault Premium / Magnum
-Volvo FH16 / 2012
-Scania R, T, Stramline, R2008 Mattdom
-Sisu by RJL
To have this sound on the Scania, just buy an engine under 490hps. (More strongers engines have a V8).
Soon, i ll make it for the iveco, and the Daf.
Take care about one thing : i had not the proper sound with the Scania R2008 by Mattdom, i had to delete the sound folder in the def files.
Credits:
Kriechbaum
DOWNLOAD 21 MB
Popular mods