skin for scania rjl
two trailer skin fcb
Credits:
SylweK
DOWNLOAD 6 MB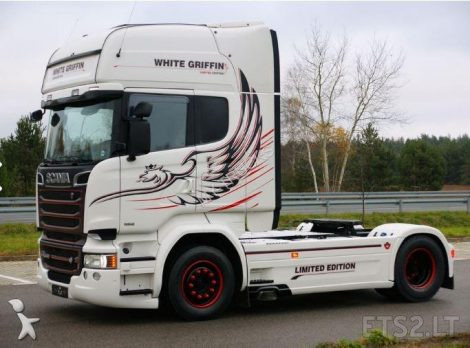 Scania White Edition for Scania RJL
Credits:
xXTruckerXx
DOWNLOAD 234 KB
*Combo pack Guarana No Sleep
*Scania RJL Topline + Schmitz Trailer
*Tested in game version 1.27.1.2s
******No copying******
Look my other skins
***My FB: https://www.facebook.com/ETS2-Floppy-Skins-107308435958360/
***My steam: http://steamcommunity.com/id/floppy_serbia/
***My World of truck: https://worldoftrucks.com/en/online_profile.php?id=267411
Enjoy !
Credits:
FloppySRB
DOWNLOAD 9 MB

Tested on 1.27!
New skin only for Scania RJL from company Trans Rivage. Colored stripe under sideskirts, blue S-U-P-E-R logo, retextured rear mudlap all included.
Recommended mods
– [RJL] Scania R & Streamline Modifications
– [powerkasi] Scania RS Addons
– [powerkasi] Light & Accessory
– [abasstreppas] Hella Double Burners pack
– [abasstreppas] Hella Auxiliary light pack
– [50keda] Wheels Pack
Specially created for
– Topline cab
– 4×2 chassis
!!! Please don't edit and reupload without my permission !!!
Enjoy 🙂
Credits:
Roman71, 50keda
DOWNLOAD 346 KB
Metallic skin, 4K and 8K versions included in the pack! You only need ONE of the mods in your mod folder.
i've also left the metallic colors unlocked, feel free to play around lol. The mod files are also open, so you can edit the skin however you want.
A Richard King version of this skin might be coming out soon.
More pics on my flickr, which you can find on the SCS forum. You can also PM me there if you want a custom golden griffin made, but not for free :p
*Sorry for the crappy pics
Credits:
VaasOne
DOWNLOAD 0.7 MB
-This version is 4K, so it should fix the issues that some people had. If the previous version worked fine, there's no need to download this.
Credits:
VaasOne
DOWNLOAD 1 MB