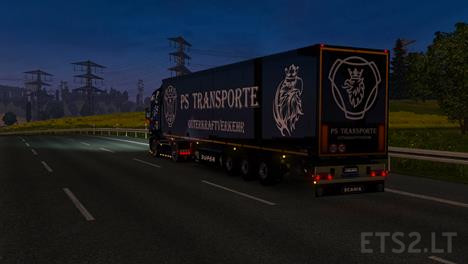 Schmitz S.KO Skin-Mod in Scania Design
The mod has been tested at ETS2 Version 1.28 and works very well.
All bugs fixed, except one warning regarding wheel settings, but mod works perfectly and looks absolutely nice together with my uploaded Scania R730 Skin for Scania RJL.
This mod contain the Schmitz SKO Trailer with PS Transporte – Scania Skin.
Fully standalone Trailer, it doesn't replace another trailer. The trailer has the same cargos as Schwarzmueller Curtain Trailer, so you are always able to choose this trailer during your transport journey.
A example for trucking dreamers like me: Imagine that you start your weekly trucking journey on sunday evening, choose this trailer and in every city you will have the chance to get another load for this trailer for your next transport job.
Different loads with different weights, similar to the cargo system of the Schwarzmueller Curtain trailer.
Content list:
-Schmitz_SK.O Trailer for a lot of cargos.
-Special PS Transporte Scania Skin.
-Advanced Coupling.
-No liftable axle.
Created with help of: ETS2 Studio
The mod has been tested in 1.28 without any other mods and it works very well.
Have fun and if you have any questions, remarks don´t hesitate to use the comment function.
Credits:
RommiTZ, ETS2 Studio 0-7-0-1, SCS Software, firstbase80
DOWNLOAD 32 MB
https://youtu.be/jGcKMCnlCdQ