Unlock All Parts
+ Whell Tuning Pack DLC Added
Tested : 1.24x Patch
Credits:
YiğitE.
DOWNLOAD 1.1 MB
This mod simulates winter.
Key Features
Winter weather and lighting
Snow/Sleet instead of rain
Winter daylight hours
Early morning fog
No physics mod has been applied so the trucks will drive as normal.
Works with Promods, TSM, MHA, Rus Map and others.
*Hungary Map fix is included in the download pack
Compatibility Latest Version: 1.24
Changes in 5.9:
Updated for 1.24
Important!!
Frosty is a weather and graphics mod so other weather, HDR and environmental graphics and sound mods should be disabled.
Frosty should be given a HIGH priority in Mod Manager.
Recommended Settings
HDR: Enabled
Color Correction: Enabled
Vegetation Detail: High
Grass Density: High
Credits:
Grimes
DOWNLOAD 550 MB
Description:
– Standalone Truck
– V8 Open Pipe Sound
– Cabin DLC ready
– Wheels
– Lift Axle
– AO texture
– Work on v1.24
v2.2 Changelog:
– Removed dashboard and wheels obselete attributes
– Interior camera now working
– Updated powered axle attributes
– Changed Truck Dealer preset
Credits:
AMV.tomas, A.Teodor, Matgamer
DOWNLOAD 158 MB
Skin Legro for track mod Scania R&S Topline by RJL
Tested in game version 1.24
Author : Bayun4ik
Please dont re-upload without the author's link!
Credits:
Bayun4ik
DOWNLOAD 283 KB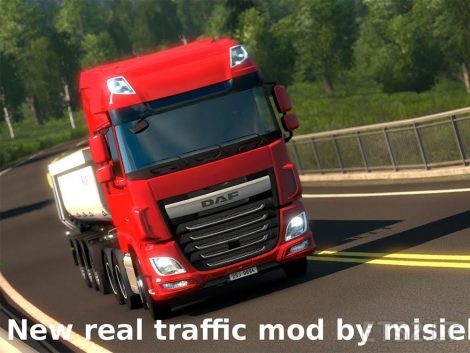 The modification significantly increases the movement by which the game becomes prettier.
-Works on 1.24.xx
-Do not burden the game
In 2.0:
-Fixed bugs
-Added several vehicles
-Running at 100%
PROHIBITION changes LINK !!!!!!
You can be but preserving the original author and link ORIGINAL !!
Credits:
misiek108
DOWNLOAD 445 KB
– Tested version 1.24
– Standalone
– AI Traffic
– Compatible with all trailer pack and DLC
– Advance coupling
* Respect the download link *
Authors: MDModding, Fred_be
DOWNLOAD 22 MB