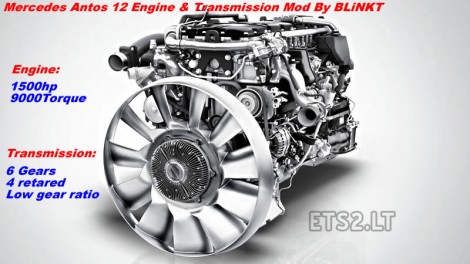 Mercedes Antos 12 Engine & Transmission Mod
Mod is compatibile with D3S Mercedes Antos '12 v1.0.0.120
More my mods and mod requests on my facebook page
https://www.facebook.com/ets2modsbyblinkt
Join to my Steam Group
http://steamcommunity.com/groups/modsbyblinkt
DO NOT REUPLOAD WITHOUT MY PERMISSION!
Author: BLiNKT
DOWNLOAD 23 KB

Version 1.0.0.120:
– Fixed chassis 4×2 Low frame (nR) 5200
– Fixed chassis 6×2 ENA Low frame (nR) 4600
– Fixed chassis 6×2 ENA
– Fixed GPS
– Fixed the name of rims and tires
– Added grid on lights
– Added back roof bars
Author: DANZ [D3S DESIGN]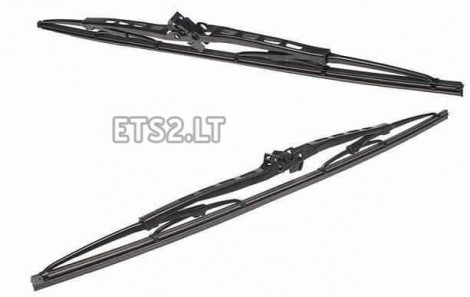 This mod add an extra (third) slower wipers level for both standard and UK interior for all default trucks
Author: Hicham
DOWNLOAD 62 KB
Tuning "Mega Store" for Scania R Streamline Spare parts for the cab, chassis and interior.
– On both tractors, low (Lowred) chassis
– The windshield is painted
– Colorable xenon lamp
– Lots of slots for lights on the cab and chassis
– Fixed bugs
– Side skirts for chassis 8×4
– Rear bumper for chassis 8×4
RJL Scania & Scania T
– Leitbur Costum added mounting points for Accessories.
– Added more lights and stuff.
– Upgraded version for 1.20
– Tested on 1.20 s
Credits:
Malcom, marion
DOWNLOAD 169 MB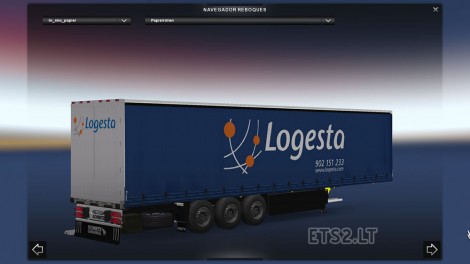 Tested in versions 1.18, 1.19 and 1.20.x
The trailers are in traffic
Trailer standalone
For skin requests:
Contact-modsglobal@gmail.com
Authors: joaoppg, Zilpzalp, Konigszapfen
DOWNLOAD 5 MB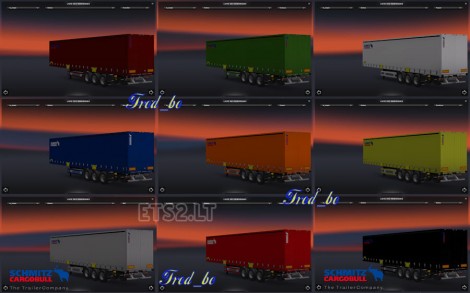 Tested version 1.20.x
Compatible version 1.19.x & 1.20.x
The trailer are standalone
Compatible with all DLC
The trailer are in traffic
Compatible with all packs trailer
Credits: Bora, Matdom1988, Fred_be
* Respect the download link *
DOWNLOAD 12 MB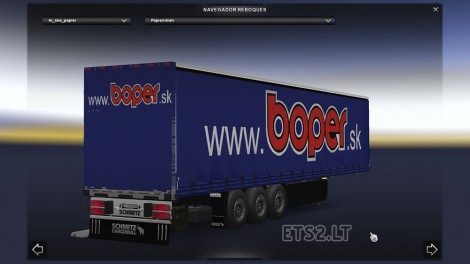 Tested in versions 1.18, 1.19 and 1.20.x
The trailers are in traffic
Trailer standalone
For skin requests:
Contact-modsglobal@gmail.com
Authors: joaoppg, Zilpzalp, Konigszapfen
DOWNLOAD 5 MB