Parts/Tuning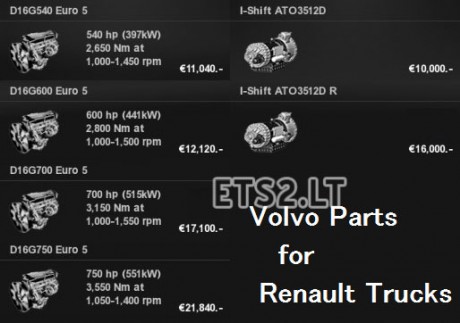 I will add Renault Magnum, Renault premium, the engine and
transmission of the Volvo FH16.
Price and unlock level
Engine
D16G540 Euro 5 : 1,1040euro Level.0
D16G600 Euro 5 : 1,2120euro Level.6
D16G700 Euro 5 : 1,7100euro Level.10
D16G750 Euro 5 : 2,1840euro Level.16
Transmission
I-Shift ATO3512D : 10000euro Level.0
I-Shift ATO3512D R : 16000euro Level.0
If you want to remove this MOD, you have to sell all of the track to
hold.
Credits:
Yuu200DC
DOWNLOAD 5 KB
.