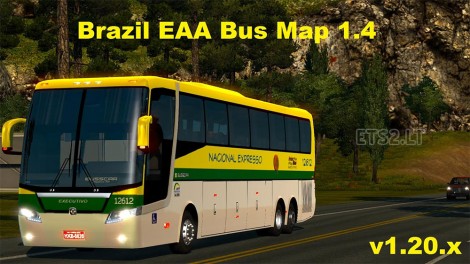 This mod adds a Brazil map to the default Europe map. In this version, you can transport passengers (in Brazil).
In this version:
– Transport only passengers in Brazil
– Were added: VW Idealle, Elegance 360 ​​G7 1200, G7 DD 1800
– 8 cities were added
Archive password: exclusivoeaabus
Credits:
Team EAA
DOWNLOAD 406 MB

Update 1.5.2:
– Work on: 1.20
– Fixed bugs
Compatible with maps:
Map of Europe by MsHeavyAlex v2.0.
Promods 1.95.
Truck Sim Map 6.0.
Note: To work correctly, the RusMap should be kept below the list of mods.
Author: aldim@tor

Map EAA – Exploring America Version 2.7
Version 2.7 for the game Euro Truck Simulator 2 1.20.X version (32bit or 64bit).
This mod adds the Brazilian map to the original ETS2 map.
Main changes from the previous version of mod:
– Adding four new cities – Alegrete, Uruguaiana, Marilia and Dourados
– Correction of minor bugs;
Password:
soumaiseaa
Author: Team EAA

Hello this is my first map contains 9 cities I hope you like it!
Installation:
1 download the file
2 extract in documents/Euro Truck simulator 2/mods
3 change the gameplay to deadly routes
4 play!
New:
1 add 2 new cities
2 fix bug v1.2
3 others
4 add traffic of bus
5 add exp and economy
6 work in version 1.18 – 1.20
Author: Rodrigo Crocco
DOWNLOAD 26 MB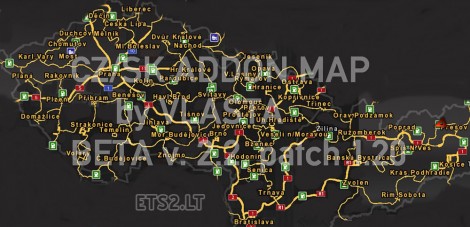 Patch 1.20.xx
The map contains additional cities Czech and Slovak Republics game ETS2.
Are necessary for the functioning of the DLC East and Scandinavia, map does not work without them.
Installing accessory at your own risk.
The map is locked, subsequent updates maps'll deliver as complete.
Map is not compatible with the others, because of the use of the same sectors in the Czech borderland map the others …
Authors: SCS, Vlasta, FLD, HomerS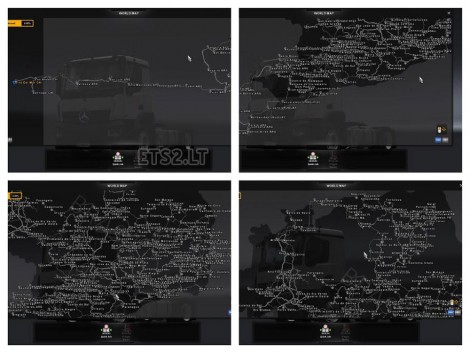 Essential updating the map to work on version 1.20 of the game (just works in Version 1.20)
– Correction of Errors,
– 4 New Cities
– Open file, released for editing
Credits:
Fabiano Teixeira
Sachsen and his innovations:
Technically you can see the map now also on ETS 2 v. 1:19 gamble. ask if any have please ask. Praise and criticism but also desirable suggestions.
It should be noted the following applies:
This is my first map on ETS 2 and I ask which is more than unfriendly users to Initial respect, which I have to deal with the editor. The Map has so 1 or 2 trees to be very stand at the sides of the road there. even one or two signs are certainly still close to the road. The Digital Leipzig residents have a Primer for schwebene houses xD hope that this will be resolved in a not distant than to wide galaxy and is determined with the next change resolved since the next small town is planning and possibly even be Realistig is in construction (is anybody's guess because of the implementation)
The changes:
Leipzig has been changed slightly. The highway to Dresden is now better linked to Leipzig. Leipzig West has been a sort of housing estate (not expanded or finished) Leipzig Ost is reasonably to downtown and there are connections considered to the highway to Dresden. Leipzig from above so below Leipzig Ost, Top Leipzig West, Leipzig North one comes in the direction of Dresden and Leipzig south one comes as usual on the motorway towards Erfurt etc.
Author: onkel-golf