1/3 scale (6times default scale) Tokyo – Yokohama Map mods for ETS2.
Version 1.2 Tokyo Water Front City update.
Odaiba is newer land reclamation island of Tokyo.
There are large container port. but more well known as sightseeing spot.
-Pallet Town Ferris Wheel
It was world largest Ferris wheel when it was completed in 1999.
This 100m diameter Ferris wheel can enjoy the beautiful night view of Tokyo.
also You can see this landmark everywhere in Odaiba Island.
DLC Scandinavia and Going East! is required.
Route Navigation Bug
ETS2s Route finder cannot find correct route in Daikoku JCT.
so I created another route between Tokyo – Yokohama.
but currently it is closed. (It will available in future update)
Credits:
Koutsu
DOWNLOAD 47.5 MB

The map contains three city Brest, Minsk, Grodno and two new paragraphs Novogrudok and Baranovichi. In the future planned expansion.
file locations
ProRus_map
ProRus_def
ProRus_model
Credits:
Author: diman26
DOWNLOAD 842 MB
Fix for combining EAA 4.0 and Eastern Express 9.1.
Added 6 ferry from S.Peterburg and Kavkaz to Brazil.
Authors: SCS, EAA Team, Valera_T, SlavikSD
DOWNLOAD 36 KB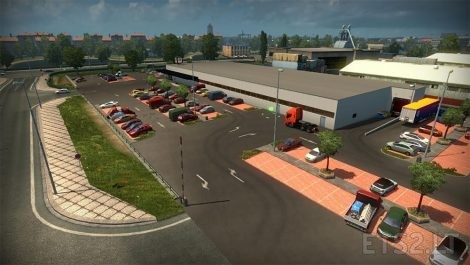 CHANGELOG FOR LATEST VERSION
-map fixes
-added a lot of ground decals including arrows and stains
-added pedestrians
-new company prefab with AI traffic included, replacing:
-Sellplan company for Hofer on base and dlc_east map
-Kaarfor company for Lidl on base and dlc_east map
-Tested on 1.24.X.s..
INSTALLATION
-Download and install 50k_MapEdit.zip to mod folder.
-Your mod folder is probably somewhere here:
"C:(username)DocumentsEuro Truck Simulator 2mod"
-NOTE: Make sure you will delete old 50k_MapEdit.scs file!
CREDITS
-50keda
Credits:
50keda
DOWNLOAD 19.7 MB
Hello truckers!
New version is out!
New roads:
– A1 -> eastern bypass of Łódź (3 lanes)
– A1 -> western bypass of Katowice
– S7 -> part near Olsztyn (longer (2 lanes))
– S8 -> southern bypass of Łódż
Rebuilded roads:
– part of A1 from Łódź to Gdańsk and as bypass of Katowice
– A2 near Łódź (3 lanes added)
– A4 from Kraków to Rzeszów
– A6 as bypass of Szczecin
– S6 near Gdańsk
– S7 near Olsztyn
– S8 near Białystok, Warszawa, Łódź and Wrocław (also as expressway from Łódź to Wrocław)
– S11 as Western bypass of Poznań
– S12 as Northern bypass of Lublin
Also added/rebuilded:
– added numbers of main roads in Poland
– rebuilded both ports
– added cityroad from Gdańsk to Gdynia
– company "Posped" in Lublin was replaced to Rzeszów
– bypass of Warsaw
Mod for version 1.2.4. IT DOESN'T NEED PROMODS!
I don't know if mod will work with other maps and mods…
If there will be some problems just write them in comments.
Have fun! 😀
Credits:
ModsPL
DOWNLOAD 74.5 MB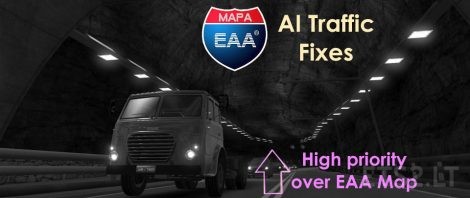 – Bug fixes for AI traffic when using EAA Brazil Map
– Must be placed in higher priority than the EAA Brazil Map and other AI traffic mods.
WHAT'S NEW?
– Cleared magic mark errors in the two new EAA countries from the game log.
– Also cleared magic mark errors for the Scania P and Volkswagen Constellation from the game log for the countries Argentina and Chile.
FEATURES
– High intensity headlights from SCS AI traffic plus EAA Map AI Traffic (Volkswagen Constellation and Scania P) now no longer unrealistically bright
– All stock AI traffic will have drivers in them
– Brazilian police in AI traffic will now only appear in Brazil
– Some vehicles in JLTruck's Brazil AI traffic packs will only appear in Brazil and be more rare to see
– Magic mark bugs fixed for AI traffic in certain Brazil countries
CREDITS
– Atak_Snajpera for improved headlight definitions
– Drive Safely for fixing bugs and adjusting AI traffic frequencies
** Disclaimer:
This does not fix game crashes on the Brazil EAA Map. That is up to the EAA Team. However, this does fix issues from the Brazil EAA Map that affects Europe (i.e. AI Traffic headlight intensity and local Brazilian vehicle frequencies)
(!) Compatible for and tested on version 1.24
Authors: Drive Safely, Atak_Snajpera
DOWNLOAD 156 MB