ETS2 South Korea Offroad Map v1.1 : 2015-03-27
New in v1.1
ㆍFixed some glitches
ㆍAdded 2 Cities, 4 Offroads
ㆍTotal 12 Cities, 17 Offroads
v1.1
ㆍ Compatible : ETS2 v1.16
ㆍ QnA : http://forum.scssoft.com/viewtopic.php?f=32&t=179076
ㆍ File Name : zzzzzzzzzzzzzzz_south_korea_offroad.scs
Installation
step 1. Copy zzzzzzzzzzzzzzz_south_korea_offroad.scs
step 2. In 'My Documents/Euro Truck Simulator 2/mod' folder
Paste zzzzzzzzzzzzzzz_south_korea_offroad.scs
Credits:
Hemil
DOWNLOAD 7 MB

Standalone Map
Tested 1.16.2 version
Author: Mudai Hasbi
DOWNLOAD 157 KB
New version officially released! This new version was dedicated to fix the intersection between Vikan and Tverlandet Bridge.
Installation:
– The installation is very simple. If you have my map mod already, replace all the new three files with the existing ones.
– Make sure you set the game module on "Test1.mdb", not "europe.mdb", or the game will just crash, because this is a standalone map which is replacing the original map.
Bugs fixed:
No bugs discovered in previous version(v0.98), except that this is a fix for the v0.98 that i mentioned myself that there was just 2 or three bugs in it. That is fixed.
Bugs that are not fixed:
– Location of the map
– Correct value while passing toll stations
– Rain in some tunnels
– Truck dealer at Fauske
Compatibility:
– 1.16.x versions
– Not tested on v1.15, because of new prefabs that are released by FLD
New features in v 0.981:
– More construction sites along the Rv80 road. Some scenery added outside Bodø, lamp posts etc…
– Fuel station added at Alstad. It is along the Rv80 road leading out of Bodø(not through the Bodø Tunnel).
– The new 4-lane Rv80 road between Vikan and Hunstad will be opened in v1.0
New cities:
– No new ones from the previous version (v0.98)
Author: FLD
DOWNLOAD 62 MB

The staff of EAA she released another fix for your map. So this fix causes increase the values ​​of own truck loads and should help make the employees to work making a profit and no loss.
Installation:
Old Map should be removed from the mod folder and do not forget to activate the mod on your profile.
Author: TEAM EAA
DOWNLOAD 78 MB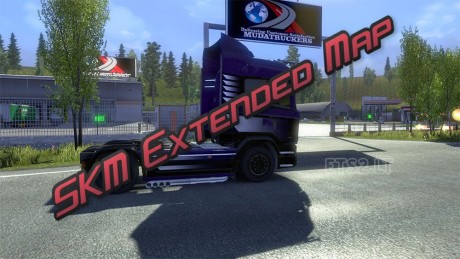 SKM Extended map brings more depots and variety to the UK, as lets face it the UK has been abandoned, at SKM we hope you enjoy our first public test any bugs then report them to us at our facebook page
https://www.facebook.com/SKMExtendedMapForETS2
Credits:
ScaniaLAD, Matt Turley AKA Keyblade
DOWNLOAD 67.8 MB

ETS2 South Korea Offroad Map v1.0 : 2015-03-20
v1.0
ㆍ Compatible : ETS2 v1.16.2
ㆍ QnA : http://forum.scssoft.com/viewtopic.php?f=32&t=179076
ㆍ File Name : zzzzzzzzzzzzzzz_south_korea_offroad.scs
Installation
step 1. Copy zzzzzzzzzzzzzzz_south_korea_offroad.scs
step 2. In 'My DocumentsEuro Truck Simulator 2mod' folder
Paste zzzzzzzzzzzzzzz_south_korea_offroad.scs
Credits:
Hemil
DOWNLOAD 2.9 MB

SKM Extended map brings more depots and variety to the UK, as lets face it the UK has been abandoned, at SKM we hope you enjoy our first public test any bugs then report them to us at our facebook page
https://www.facebook.com/pages/SKM-Extended-Map-For-ETS2/351637028368509
Credits:
ScaniaLAD, Matt Turley AKA Keyblade
DOWNLOAD 67 MB