Update 2.4:
– Game version 1.22
– Fixed bugs
1.22 + DLC Going East!
DLC «Scandinavia» – not necessarily
Please save the authorship (whole list) and the original download link! Thanks!
Author: МОРОЗОВ
DOWNLOAD 987 MB

R.O.C (Republic Of China) map alpha test 0.12 (patch 1.21.X) add-on
This map need patch 1.21 + DLC Going East! + DLC Scandinavia
0.12 ~add 1 city,more routes and new models.
Fixed some hole and object distance, improve some model textures.
R.O.C Map still in test, this map need password.
have any suggestion, you can post on my blog page.
If you don't want to play test map, you can wait bigger R.O.C map .
Because statistics of where map user come form, please get password form blog page and do not forward password.
the password information on my blog.
password in here.
http://jetso550.blogspot.tw/2015/11/ets2-r.html
The terms of Use see my blog information.
Please Do not re-upload this map
Yakuan.
Credits:
Yakuan
DOWNLOAD 62 MB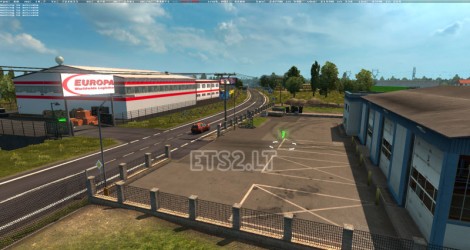 *********************************************************************************
ETS2 – MHAPro EU 2.2. (Compatible with 1.21.1.4 None-steam and Steam and higher):
*********************************************************************************
1. fixed two(2) signs from SCS mistake in DLC North
2. fixed some small mistakes on roads where trees look cross roads
3. redesigned road from Orebro (SWE) to Goteborg (SWE) E20
4. new Sweden Billboards
5. new small city Ullervad (SWE)
– company Renar Logistic
– company AgroNord
– company Sag_tre
– company Maxilla
6. new small city Stöpen (SWE)
– company Servis_MHA
– company Fastrans
7.new city Skövde (SWE)
– company RFF (Real Food Farm)
– company Gradis
– company GNT
– company Maxilla
8. redesigned Magdeburg (D)
– company Gradis
9. replaced company Sawmill in Gradis – Frankfurt (D)
10. new roads with traffic around company Nordic Stenbrott- Jönköping (SWE)
11. highway in Poland (18) to Germany border (15) –
– Rebuilded by me for latest version, change and update more than 50% roads,other
things on that part of road MOD – old, out of date (DK18/A18 by Sebastian)
12. new look of Kristiansand (N)
– company Concargo
– company McDonalds
– fixed all bugs in that part of map and invisible roads
13. redesign road from Oslo (N) – Kristiansand (N)
14. redesign road from Kristiansand (N) – Stavanger (N)
15. new gas station,parking on highway between Kristiansand – Oslo (N)
16. new city Götene (SWE)
– company Europe
– company Sawmill
17. redesign normal road from Wroclaw to Poznan (PL)
18. 2x gas stations on highway from Jönköping – Linköping (SWE)
19. redesign normal road from Sandomeriez (PL) to south
20. fixed roundabout – When ai cars drive up to the roundabout coming from the west,
they disappear – Helsingborg (SWE) (SCS mistake)
21. new roadwork look in Alsonyek (H)
22. new 3x gas station on highway from Dresden to Berlin (D)
23. new gas stations near and around Frankfurt (D) on highway – to north
24. redesign road from Götene to Göteborg (SWE)
25. new small city Long (SWE)
– company Service_MHA
– company Transport21
26. new gas station on highways
– south from Munchen (D)
– between enter roads to Stuttgart (D)
– south from Mannheim (D)
– west from Mannheim (D) (normal road)
– south from Lyon (F) on highway A43 to Torino (ITA)
– north from Lyon (F) on highway A6¸p
– south/east from Auxerre (F) on highway A36
– east from Auxerre (F) on highway A35
– 3x east from Dijon (F) on highway A31
– 1x west from Dijon (F) on highway A6
– 1x south/east from Paris (F) on highway A86
27. redesigned normal road from Lyon (F)-Dyon (F)(north)and to Geneve (CH)
– 3 – 4 new gas stations on that route
28. minor edits in Dijon (F)
29. fixed some wierd "cut scene" cause by new SCS updates near Auxerre (F) on highway
Author: Heavy Alex
DOWNLOAD 531 MB

Tested version 1.21
City Aalborg & Bergen
Author: DanielDan
DOWNLOAD 17 KB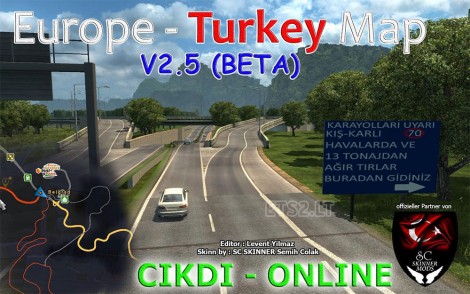 find us on Facebook for the new updates :
www.facebook.com/SCSKINNERSCLOGISTIK/
+++++++++++++++++++++++++++++++++++++++++
V2.0 – V2.1 –》cities of other countries on the way from Europe to Turkey to Zagreb, Belgrade, Nis, Sofia
addet rail service from Salzburg to Edirne
Scandinavia DLC
+++++++++++++++++++++++++++++++++++++++++
V2.5 –》new city name is Kırklareli & we have new street from europe to turkey this is small and dangerous
Credits : SC SKINNER – Levent Yilmaz
Credits:
SC SKINNER
DOWNLOAD 174 MB
Added symbols of some countries.
Clearer boundaries between countries.
The new design icon on the map.
Colored icons boost sales of trucks and vans.
Added new ports.
The new design navigation.
And other items.
Credits:
nima1371
DOWNLOAD 34.9 MB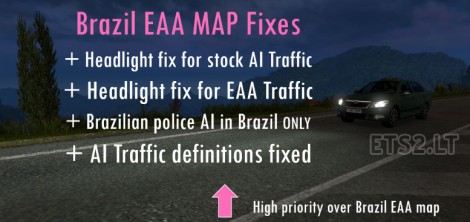 Fixes for EAA Brazil Map
Must be placed in higher priority than the EAA Brazil Map.
Features:
* High intensity headlights from stock AI traffic plus EAA's Volkswagen Constellation and Scania P changed to default intensity (now not insanely bright)
* Brazilian police in AI traffic will now only appear in Brazil
* (NEW) Magic mark bugs fixed for AI traffic in certain Brazil countries
Compatible for and tested on version 1.21.1
No errors in game log.
** Disclaimer:
This does not fix game crashes on the Brazil EAA Map. That is up to the EAA Team. However, this does fix issues from the Brazil EAA Map that affects Europe (i.e. AI Traffic headlight intensity and Brazil police car frequencies)
Credits:
Drive Safely
DOWNLOAD 144 KB